In an ideal world, you'd wake up with the sun, make a cup of coffee, and sit outside on the balcony of your downtown apartment. In the real world, the nosy tenant is watching you from two balconies over and you're never able to sit outside anyway because the neighbors to your right are always outside having a loud conversation. 
You can make a small balcony private by covering the railings or walls and blocking out sound. You can use vines or tall planters with bamboo to create a wall. Consider hanging curtains, lattice, or a screen. Use a small water fountain to create soft noise that will cover up your loud neighbors.
Small balconies are common in dense urban areas. Fortunately, there are many ways you can make your small balcony a private area you'll be happy to spend time in. Let's take a look at some ideas.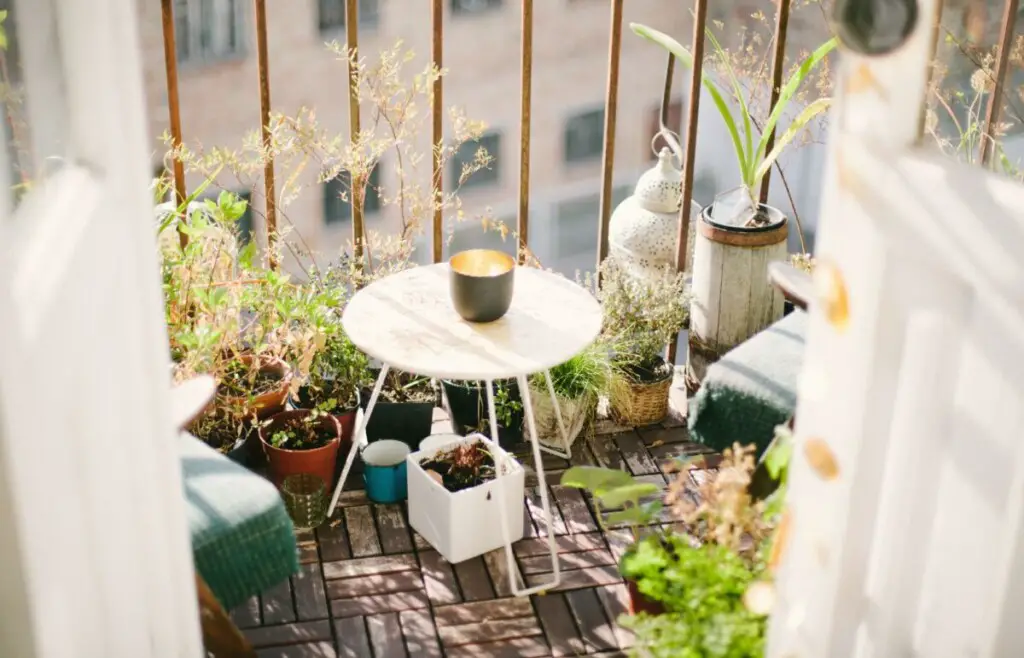 Add Plants to Your Balcony
Adding plants might be one of the best ways to make your balcony private. It can also benefit your mental health, too. Studies show that people felt more concentrated while working around plants and there are many studies about plants reducing stress levels. If you want to create a place to relax or work, plants might be the best way to go.
You can use living plants if you have a green thumb or want something to look after. There are many plants that work great in container gardens that you can easily grow.
Fake plants are another option for you if you like the look of plants but don't want the responsibility or hassle that comes with growing things. 
Add Climbing Plants
Climbing plants have long vines and tendrils that like to climb up. You can also weave them in and out of your balcony railing to create a lush wall.
If you choose to use real plants, place the containers right next to the railing. As the vines begin to grow and latch on to the railing, you can train them where you want them to go. Soon enough, the entire railing will be covered. The one downside to real plants is that they'll die in cold weather. But, you probably won't be on the balcony in the cold too often, anyway.
There are many options for fake vines that you can use, too. The upside to fake plants is that you won't have to worry about containers taking up much-needed balcony space unless you want them to look more realistic. Plus, they probably won't attract bees and other insects.
Add Potted Plants
Real or fake, potted plants can make your balcony feel more private. Find some tall plants like bamboo or cattails and grow them in pots close together to create a wall. Or, find some tall planters to act as a wall. 
Depending on the height of the planter and the space available, you could choose to grow tall plants for full coverage, short plants that will complement the area, or even vining plants that will trail down.
Do Some Vertical Gardening
Vertical gardening is a popular trend among city-dwellers with little to no space to grow vegetables. Vertical gardening is strategic and makes use of the vertical space rather than the horizontal space. 
Use lattice or hang pots on the wall to grow herbs and vegetables. Many vegetables do well in containers like squash, pole beans, and tomatoes. 
Create Your Own Walls With Fabric or Lattice
Every balcony should have walls on the sides for some privacy, but sometimes they just don't. Fortunately, you can create your own "faux walls" with fabric or lattice. Of course, these walls won't be sturdy and you might even have to take them down during severe weather.
Create Fabric Walls
You will need some sturdy fabric that can endure extreme temperatures and rain. You'll need to make sure the fabric is secured in place so it doesn't get grabbed up by the wind. It's possible it could get blown into your neighbor's balcony and make them upset.
With fabric, you have plenty of freedom when it comes to design. You could choose a solid color fabric so you focus the attention on brightly colored furniture or decor. Or, you could use fabric with a vivid pattern if you have drab furniture and need an extra pop of color.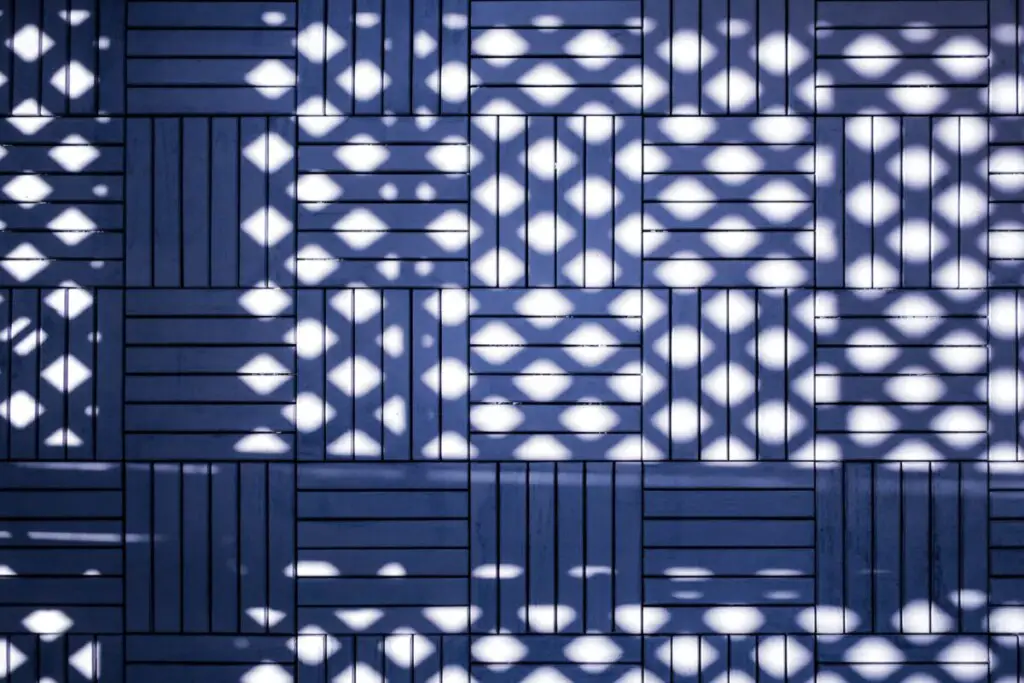 Create Lattice Walls
Lattice goes hand in hand with container gardening, but it also has many other uses. You can use it as a partial privacy wall. Your neighbors will still be able to see you, but it gets the idea across that you don't want to be watched while you're sitting outside.
Lattice can also be used to hang things from. Whether it's planters, decorative lights, or outdoor decor, it will allow you to hang things on your balcony that you wouldn't have been able to use before.
Add Some Curtains
Find some sturdy curtains that can withstand heat, cold, and rain and you'll easily be able to block out the neighbors. Better yet, you can block out the sun. Having an east or west-facing balcony can create an extra warm room in the mornings or evenings, so having an extra set of curtains will be helpful.
When you're not using them, you can tie them up and they'll function as beautiful decor as you sit outside on the balcony.
Install a Decorative Divider
There are a couple of different screens you can use on a balcony. They'll function similarly to lattice, but you won't have to worry about hanging these up because they can stand on their own.
One option is a decorative divider. A decorative divider can add a splash of color and a bit of privacy to your balcony. You'll be able to easily move it around as needed. If you have severe weather on the way, you'll be able to bring it inside so it won't blow away.
It can also provide shade, so if you have a particularly sunny balcony, moving it around with the sun will allow you to constantly stay shaded throughout the day.
Install Slatted Wood Screens
Slatted wood screens prevent people from looking in, but you still get to enjoy the sunlight. If you want to be able to grow plants or get some sun, this can be a great way to do so without sacrificing your privacy.
Some wooden screens are adjustable, so you'll be able to open and close them as you please. With this kind of screen, you aren't limited to always blocking the view or always having people look at you. You can change it up to fit your needs. 
Add Some Water Features
If noisy neighbors are your problem, consider adding a water feature to block out the noise. Fountains can be heavy and require a lot of water, which isn't too wise for a balcony, but a tabletop fountain like the PeterIvan 4-Tier Cascading Resin-Rock Falls Tabletop Water Fountain might do the trick.
A small fountain should provide enough noise to block out the neighbors, but shouldn't create enough noise to actually annoy the neighbors.
Conclusion
You can easily get some privacy on your balcony by using decorations. Curtains and screens are decorative ways to get some privacy. Lattice and plants are both functional and decorative ways to make your balcony private. If you need to block out some noisy neighbors, a small fountain can create enough noise to counter them.
When decorating your balcony for privacy, remember to respect your neighbors. Don't let your plants and faux walls cross over onto their balcony. They might appreciate the privacy, too, but don't let it become invasive.