A Juliet balcony is the most sensible option if you have limited space to install a protruding balcony. It will still serve the purpose of giving access to the outdoors and bringing in lots of light into your house. However, you need some blinds to regulate the incoming light and for your privacy.
The best blinds for a Juliet balcony are versatile enough to install on different types of glass doors. They are multifunctional, producing good insulation against excessive heat and preventing loss of energy at night, and will also match perfectly with your interior decor without looking out of place.
Here are 8 of the best blinds that will enhance the utility and looks of your balcony.
1. Nano Blinds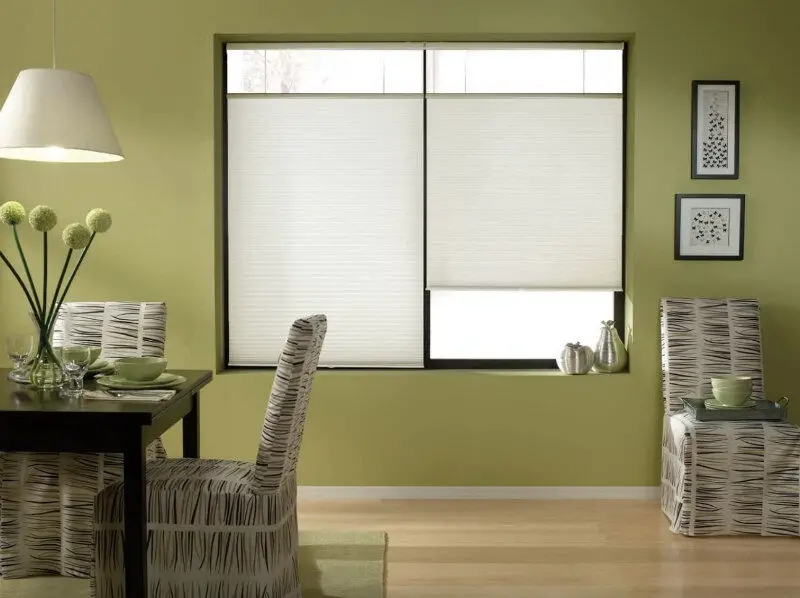 Nano blinds such as the Windowsandgarden Cordless Shade offer great flexibility during installation. They can easily fit onto the glass of the window or door without using screws or even brackets. 
Nano Blinds work great on French doors and windows. They provide a perfect cover over the glass panes without obstructing any movement through the doors. That also makes them useful on doors and windows which tilt and turn.
What's even better is that you can open and close the Nano Blinds in two different ways: top-down and bottom-up. A specific example of quality Nano blinds is Luxaflex Nano Blinds.
What makes Luxaflex Nano Blinds top-up bottom-down a great choice for a Juliet balcony? 
You can fit them at the top of the glass door, the bottom of it, halfway, or all the way down at the right or left of the glass. When it comes to privacy control, protection from the scorching sun, and their sheer darkening effect on a room, Nano blinds are miles ahead.
2. Smart Fit Blinds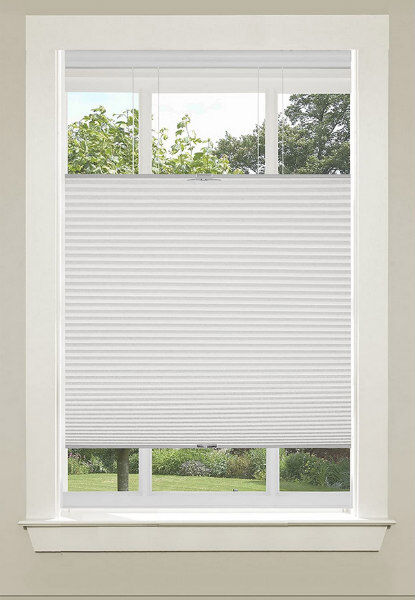 Initially, Smart Fit blinds like the Achim Cordless Shade were designed for use on French doors, but have since advanced to various usages such as Juliet balcony, conservatories, and "tilt and turn" windows. 
Smart fit blinds are ideal for tight spaces because they have a slimline profile and are extremely versatile with top-down and bottom-up functionality. 
Besides, these types of blinds feature a cordless operation with the benefit of handles at the top and rails at the bottom. With that configuration, you can easily take them down and put them up again. They can be easily installed without the need to drill or screw door/ window frames, thus saving you from damaging any of the existing plasterwork. 
You can find different forms of Smart Fit blinds like pleated, Venetian, and rollers. If undecided on the type of Smart Fit blinds to choose for your Juliet balcony, simply follow your heart! These are some of the best blinds for any balcony – not just the Juliet type.
3. Motorized Blinds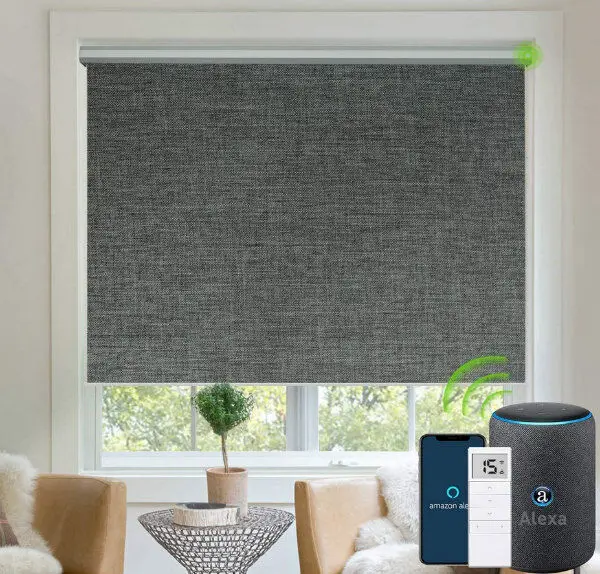 Motorized blinds like the Yoolax Blackout Fabric Automatic Shades are perfect for a smart home. They can be controlled via Alexa, your smart phone, or by a remote control.
These blinds are also excellent at light control. They are made to order to fit the specific size of your juliet balcony and will block out the light with just the touch of a button.
The Yoolax blinds are available in various colors, but if you're not sure which one to order, there is a sample fabric book that you can buy before making your decision.
4. Roman Shades
A Roman shade like the Chicology Magnetic Shade is made of soft drapes.
Since it operates like pleated shades, the fabric typically has crisp folds. Although that's a pattern derived from its operation, it's an interesting, stylish design too.
The shade features two key methods to raise or lower the fabric:
Using a continuous loop of cording
A pull cord
When choosing this type of shade, one critical consideration would be to match your interior furnishings with it. This way, you can take advantage of the fabric material to enhance the décor in your living room or bedroom.
5. Aluminum Blinds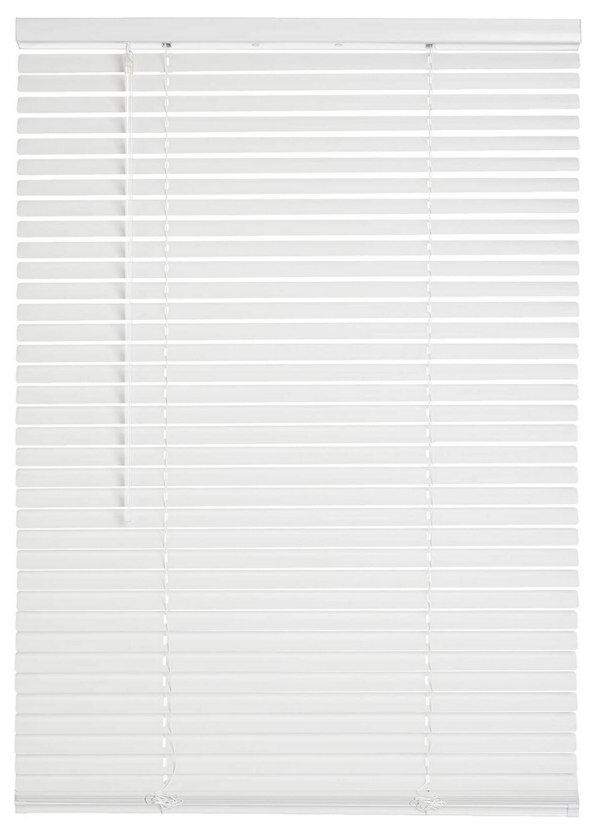 The Lotus & Windoware and other aluminum blinds are quite cost-effective, especially since they are very durable. It will certainly take a while before you need to replace this blind.
The hardy metal blind can last long despite extreme outdoor conditions. It can stay in direct sunlight without significant wear and still look good. Best of all, it doesn't warp like wooden blinds.
These blinds come in an astounding array of colors, ranging from neutral and bright colors to modern metallic finishes.
6. Cellular Shades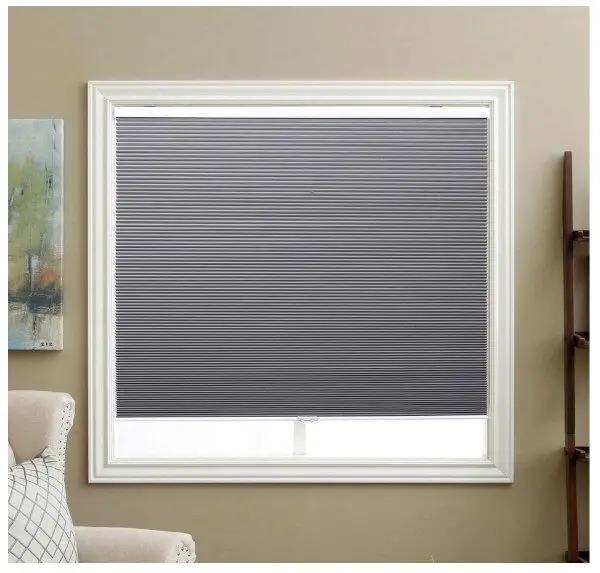 The SBARTAR Shade and other cellular shades are made from one continuous piece of fabric. You can get a roll-up or fold-up version of these shades.
The fabric folds up along crisp pleats, with a variety of pleat sizes. You also have a selection of multiple colors, as well as light control options ranging from sheer to blackout.
A particularly valuable feature of cellular shades is the high level of insulation provided by the shade's honeycomb-shaped air pockets (cells). These cells make the shade quite energy-efficient, so your room can stay cool on a hot day and warm on a cold night.
7. Bamboo Shades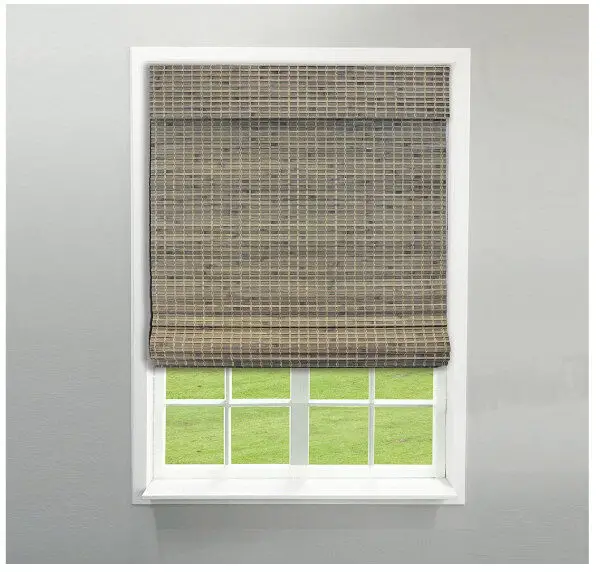 Bamboo shades like the RADIANCE Cordless Roman Shades are inexpensive, durable, and stylish.
The fact that bamboo is an eco-friendly material is an added advantage, especially for environmentally conscious homeowners. Bamboo uses an incredibly small amount of water to grow, which gives this shade an advantage over hardwood varieties.
The shade filters light while adding texture to your room. This ensures your room gets a good bit of sunlight while preventing excessive heat.
8. Faux Wood Blinds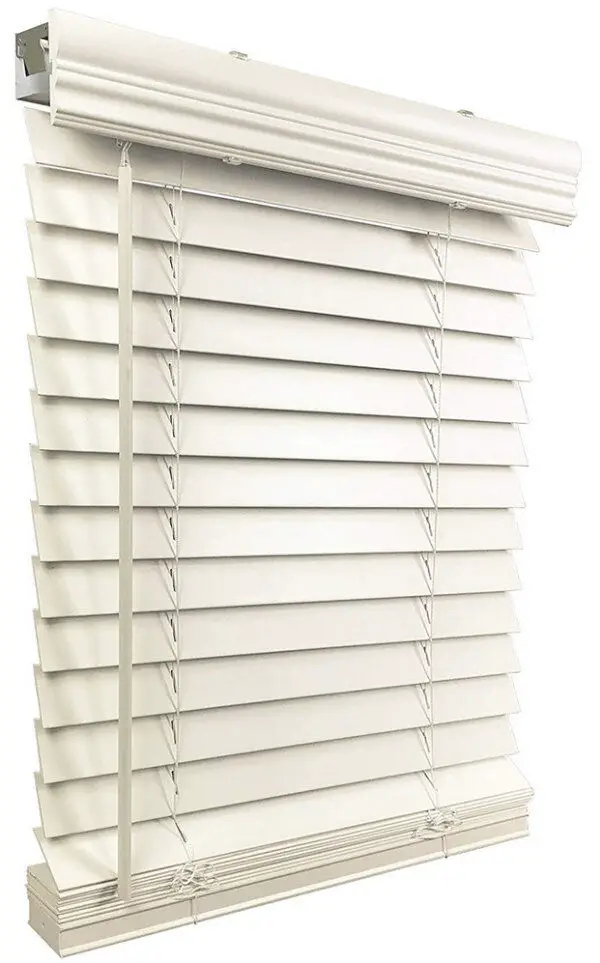 Faux Wood Blinds like the US Window And Floor Blinds are not only cost-efficient but also easy to clean and durable.
The man-made material is more resilient to extreme environments compared to natural wood. It won't crack in direct sunlight or warp due to humidity.
These blinds are made from three material types, including:
Solid PVC Faux Wood Blinds
Composite Faux Wood Blinds
Wood Core Faux Wood Blinds
Ultimately, you benefit from the natural look and feel of wood without the disadvantages.
Considerations When Choosing Blinds
Many factors will guide your choice of blinds for your Juliet balcony. Some of these include the availability of space, style/ decor, and cost. 
Here are some more considerations to evaluate.
Versatility
Check if the blinds offer a range of fitting options to choose from.
You may have a particularly unique glass door on your balcony. If the blind cannot be customized to fit into your door, you may have to pick another.
Quality
Check if the manufacturing company has established itself as a trusted and reliable brand in terms of giving the best quality products. Does the company boast of a rich heritage of quality service and credibility?
Purchasing blinds from a reputable brand will give you the assurance that you're getting a product that you won't regret.
Safety
Safety is essential and, if not adhered to, could prove fatal, especially if you have children in the home.
Therefore, you need blinds that guarantee safety while providing the service for which they were installed. The blinds should be easy to use even by children, without any potential of harm to the kids.
Multi-functional    
If you can get one product that serves multiple functions, it would be far more cost-effective.
For instance, a good blind can facilitate ventilation into the room and as well as light filtration. This way, you can enjoy the serenity of the cool air from outside in the comfort of your house, without having to worry about excessive sunlight.
In the end, you also need to look for blinds that look presentable. You need a well-designed product with a clean and uncluttered look, and which doesn't involve any tussle and hassle.
Conclusion 
With all the varieties of blinds available, you no longer have to settle for a bare balcony.
You can choose the best blinds available that will help ventilate your indoor space, provide privacy, offer protection from the sun, and allow sufficient natural light. To prolong the lifespan of your blinds, make sure to regularly clean them in order to preserve their initial beautiful look.