The right chairs for a balcony are quite different from your dining room chairs. You have to consider the harsher external weather conditions – not just the appearance. It gets even more challenging when picking the right chairs for a small balcony.
The best chairs for a small balcony will combine efficient use of space, durability, and beauty. But the chairs should be so well designed that they are comfortable to sit in even for a taller, heavier person.
So, here are the eight best chairs for a small balcony, based on those underlying characteristics.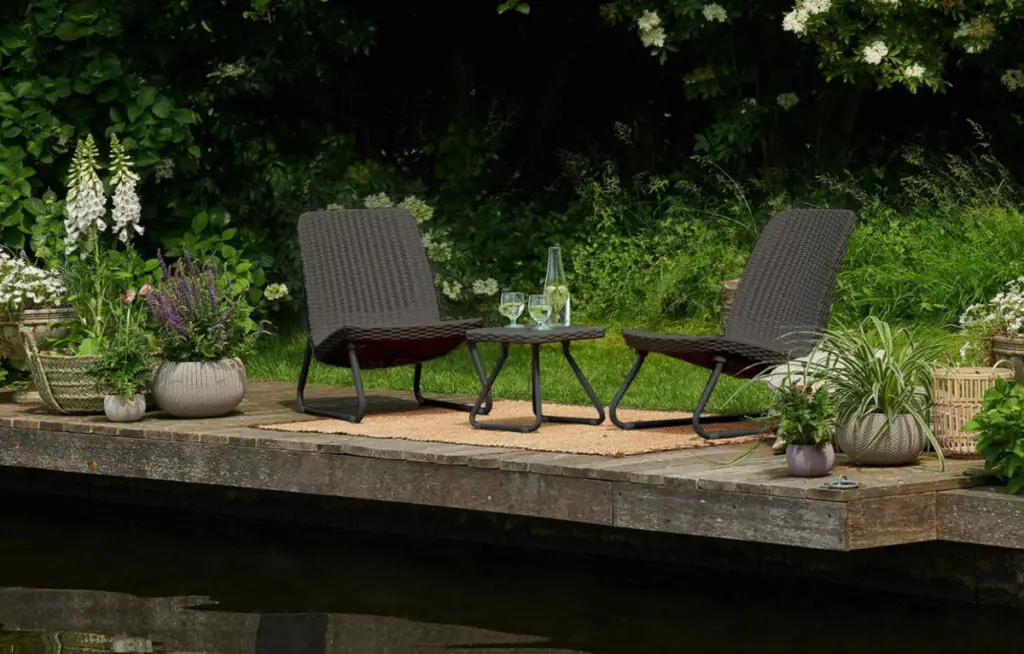 Keter Rio Resin Wicker Patio Furniture Set
The Keter Rio 3 Piece Resin Wicker Patio Furniture Set comes with two chairs and a table.
The most valuable feature of the chair is the low, reclining seating posture. It's the kind of chair that makes you feel rested and comfortable. And it has pretty good back support that covers your entire spine.
It may seem like a small piece of furniture, but the design gives the feel of sturdy comfort.
The height of the seating part of the chair is closer to a beach chair than a standard chair. The front part is 12 inches (30cm) above the ground, and the back is 8.5 inches (22cm) high.
This chair's design borrows from the popular, stylish rattan design. Although it's made from resin plastic, you would hardly notice it due to the well-crafted patterns.
Will the chair sustain the weight of a heavily built person?
Yes, it has 299 lbs. (135 kg.) weight capacity. That's more than the average American adult weight. This weight is supported by exceptionally sturdy metallic legs on each of the chairs and the table.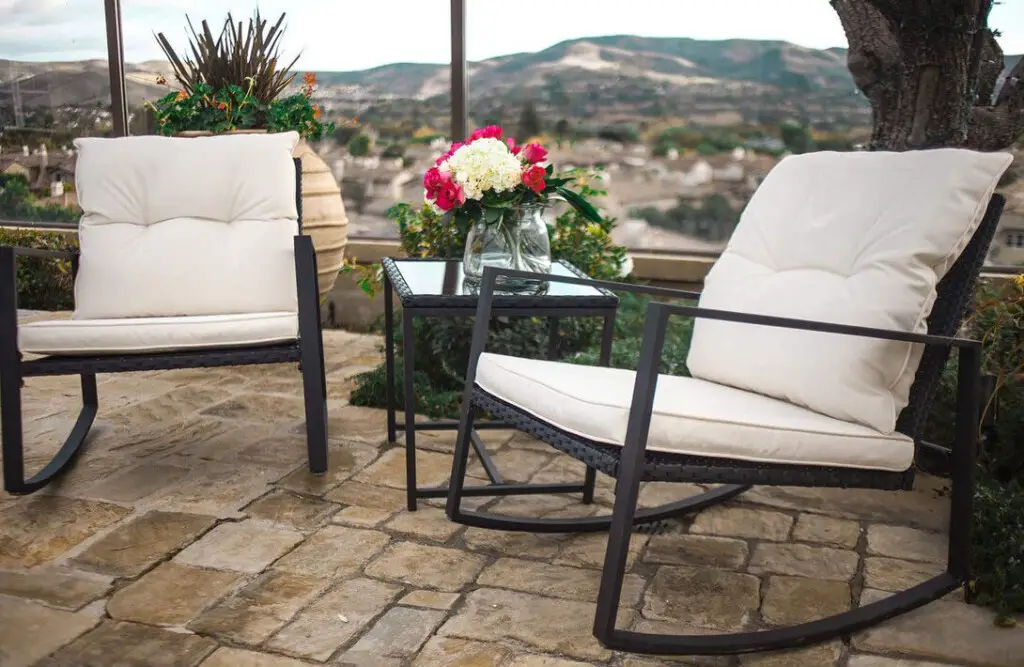 SUNCROWN Outdoor 3-Piece Rocking Bistro Set
The SUNCROWN Outdoor 3-Piece Rocking Bistro Set has a pair of chairs and a beautiful glass coffee table that adds a touch of class. Who wouldn't want a bit of luxury on the balcony?
At first glance, the chairs may seem to only offer the normal sitting posture and not much recline. However, you can quickly switch to a reclining posture due to the rocking feature.
The design makes these chairs useful for when you want to have tea on your balcony, or you just want to relax outdoors.
The seat isn't too high, at 14 inches (36cm), making it convenient for both short and tall users.
The fact that it has a 3-inch (8cm) cushion pad makes it convenient for long hours of outdoor seating. Without the pad, you'll likely feel a bit of discomfort after a few hours on the chair.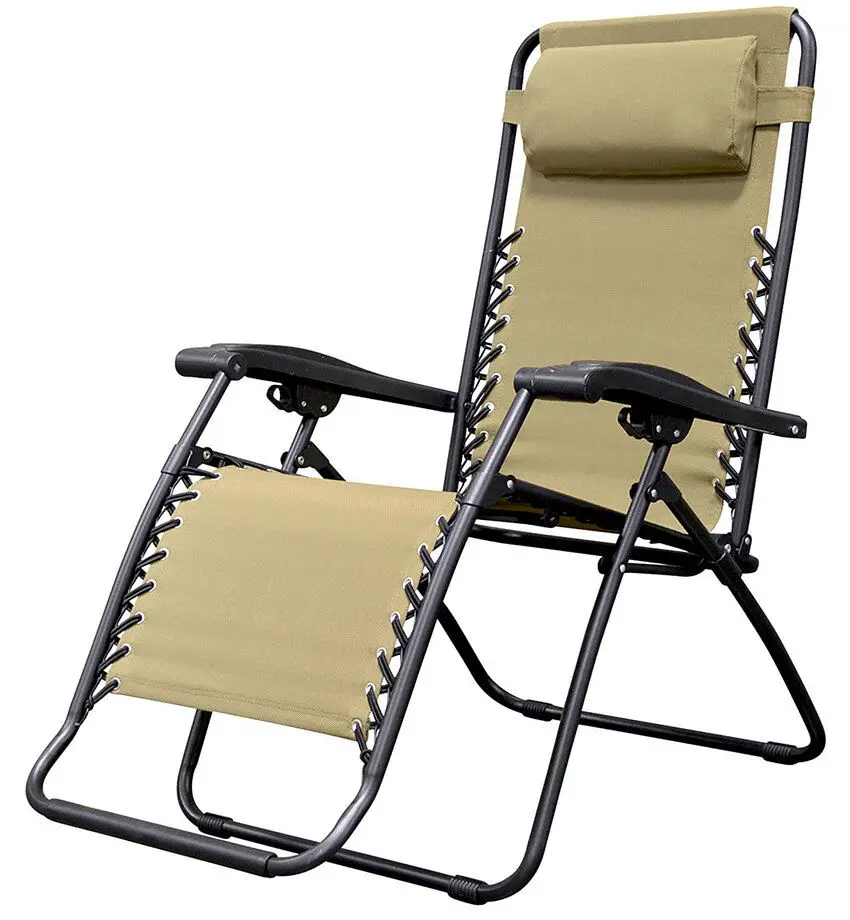 Caravan Sports Infinity Zero Gravity Chair
The Caravan Sports Infinity Zero Gravity Chair is what you get when you combine a reclining sofa with a simple balcony chair. That alone should give you a hint as to how comfortable this chair can be.
However, due to the horizontal recline, you may not have enough space for more than one chair on a small balcony. It's a good thing it doesn't come in a set of two.
With the durable textilene fabric and a double bungee system suspension, you don't need to worry about the structure caving in.
You can recline the chair in multiple positions, so you can get the exact posture that you like. Moreover, the adjustable headrest and lumbar support make it possible for people of varying heights and physiques to get the most comfortable setting.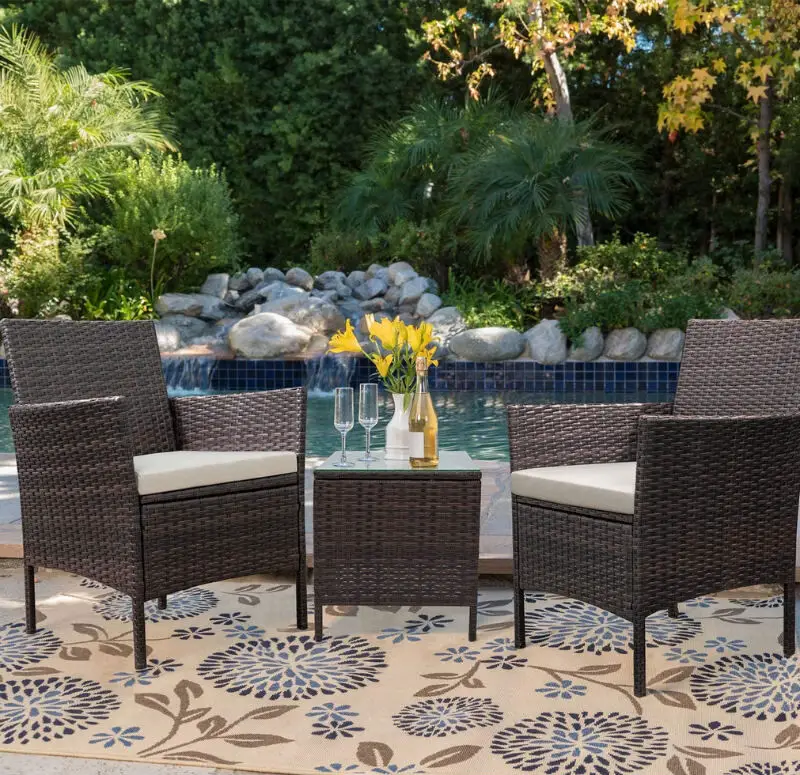 Devoko Patio Porch Furniture Set
The Devoko Patio Porch Furniture Set has a pair of chairs made of PE rattan with strong steel frames.
These chairs are specifically made for the outdoors, able to withstand long exposure to wind and rain. They do equally well, even in high-temperature areas.
Strength is further complemented by the comfort from the chair's soft, sponge-filled seats.
It's also a good thing that the designers included features for easy cleaning of the seat cushions. You can conveniently remove the covers for easy cleaning and maintenance—a pretty useful thing considering that your balcony often gets exposed to dust and other contaminants.
Due to a rugged design, the chairs would work well in many other places besides your balcony, such as the patio, poolside, porch, garden, backyard, and many other spaces.
Most of all, the chair won't look out of place even within your apartment, during those times when the weather is too harsh to leave it on the balcony.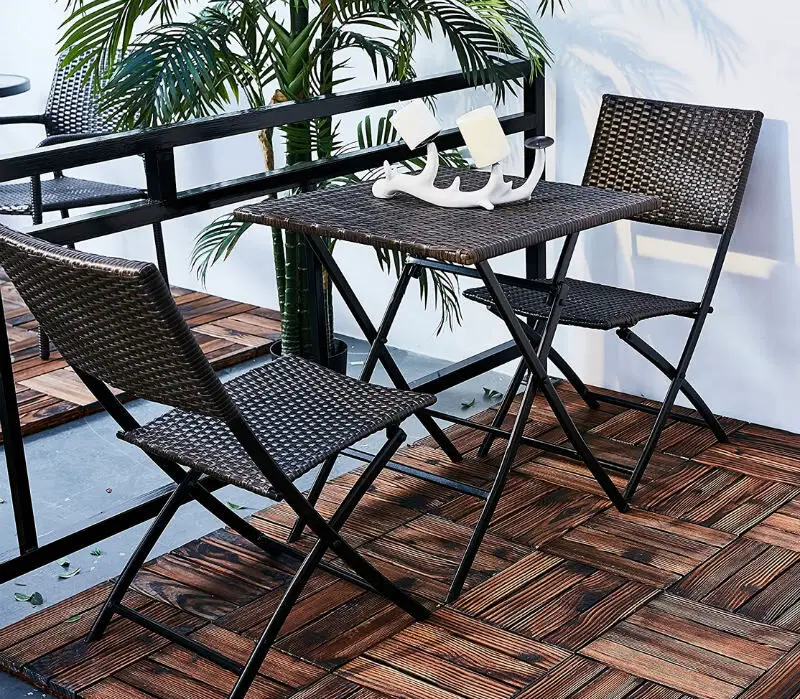 Parma Rattan Patio Bistro Set
Chairs from the Parma Rattan Patio Bistro Set are designed to be as rust-proof as possible. They have powder-coated strong steel frames. This should give you little worry about rust even when it gets rained on or accumulates moisture during the night.
The resin wicker on which you sit is also designed to withstand harsh outdoor weather. If you've ever fallen through a worn-out chair seat before, you'll certainly appreciate that feature. It guarantees long-term use for many months and years.
This chair is so well-built that it would last long, even on the beach.
For those who hate assembling furniture, you'll be glad to know that isn't needed here. The chair folds smoothly for compact storage, and it's lightweight for portability.
To top it all, it has a high weight capacity of up to 300 lbs. (136 kg.).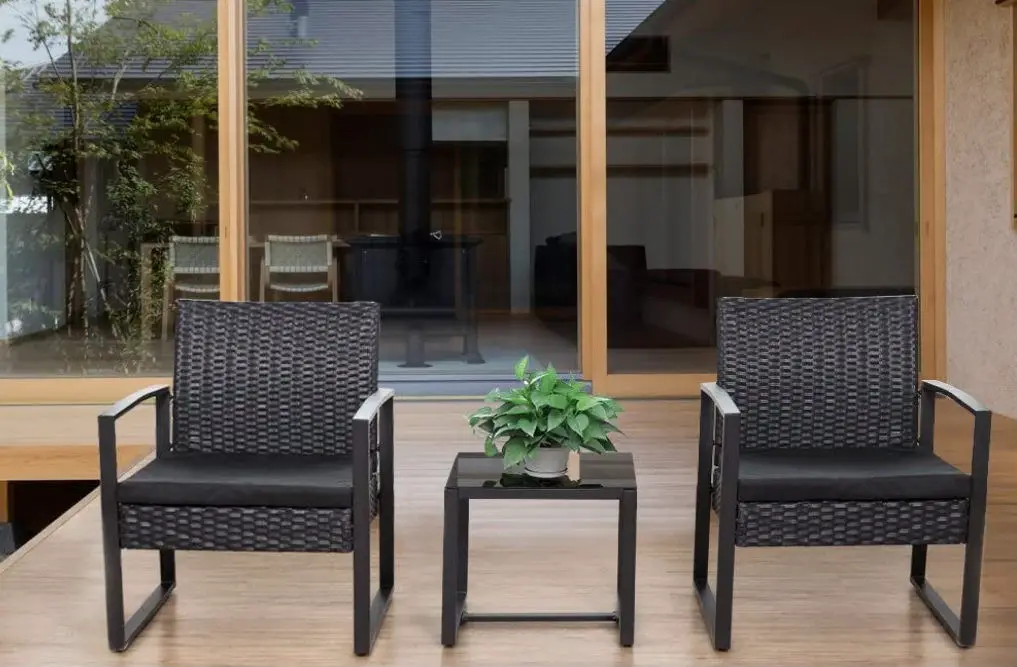 Flamaker Patio Set
The Flamaker Patio Set offers a simple and practical chair design. The chairs have closed armrests for comfortable seating.
If you're looking for something that has a modern, stylish design, this may be a good choice. It has that simple yet alluring, minimalist design.
Since it's meant for outdoor use, it has a durable PE rattan made to last for months and years.
You can sit on the chair without any worries, even if you weigh 250 pounds (113 kg), the maximum weight capacity.
This chair is particularly designed to provide maximum comfort based on the wide and deep cushioned seats. Even the padding is super-soft, which should help you overcome fatigue from your workday as you relax on the chair and catch a cool breeze.
Cleaning your chair should be easy since the cushions have removable polyester covers.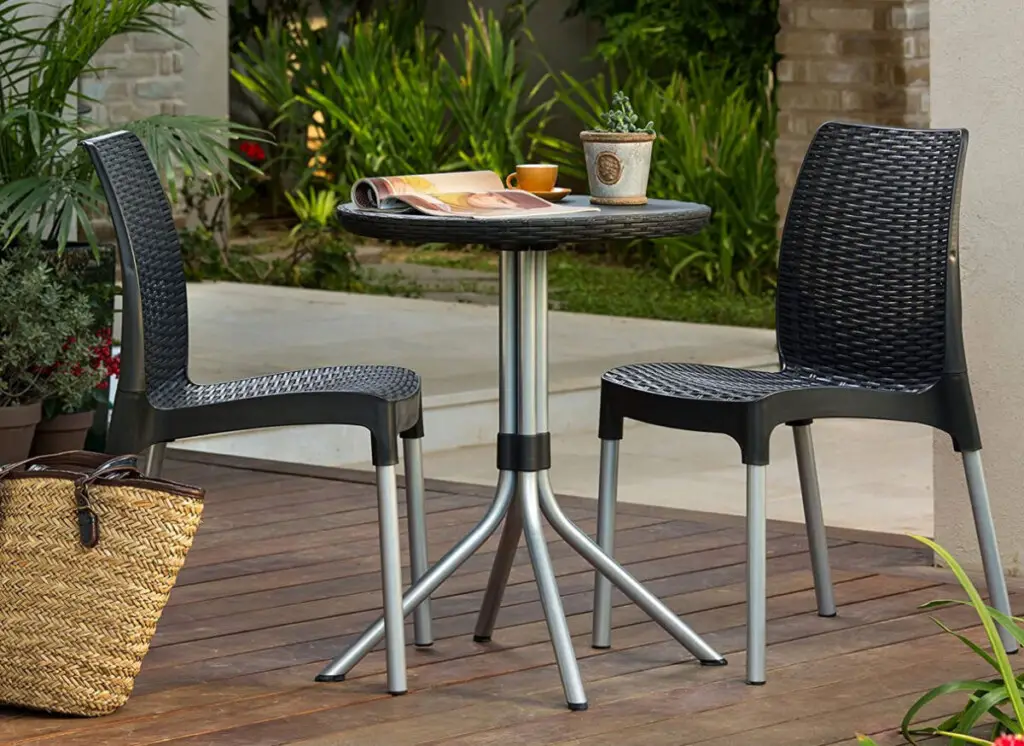 Keter Chelsea Resin Dining Bistro Set
This Keter Chelsea Resin Dining Bistro Set is just what you need for an evening dining experience under the stars. It has a high dining table and two chairs, well-suited for that romantic date.
Although the chairs don't have cushions, you can sort that out with a thin pillow on your seat. Besides, cushions only make the chair less durable than a plain polypropylene resin construction. That's what gives this chair superior durability and strength.
Despite being strong, the chair is quite lightweight, because of the design meant for rigidity as well as portability.
If you have guests over, you'll definitely want to show off the attractive wicker/rattan design. It gives the feel of being worth ten times more than what you pay for it.
You may have to make time to assemble your set of chairs and table, but that won't take more than a few minutes.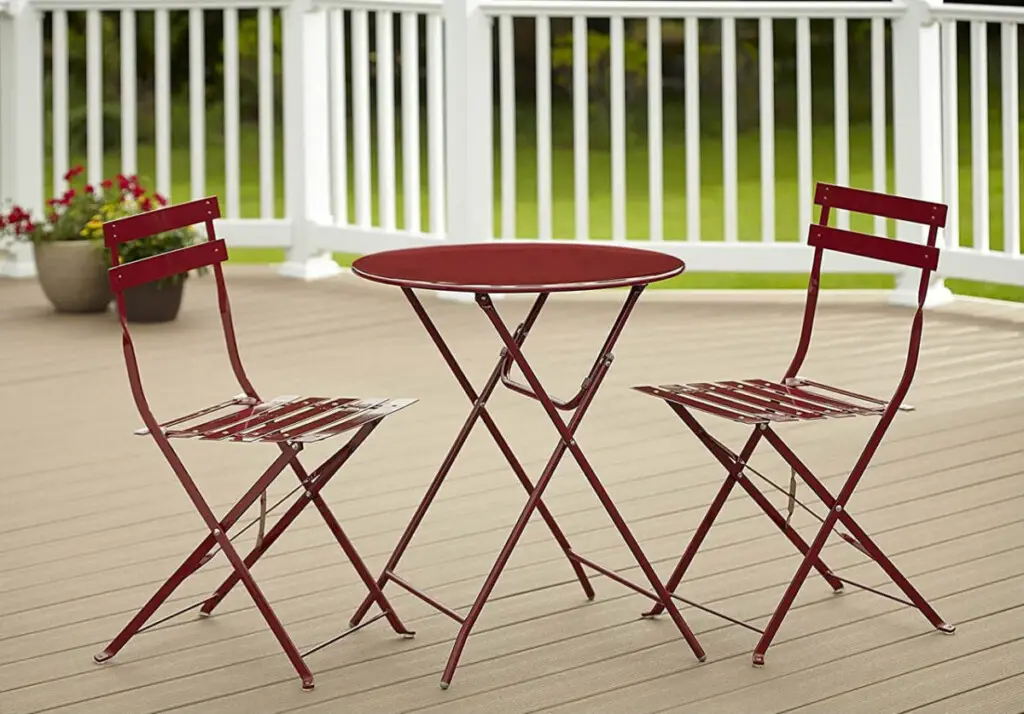 Cosco Outdoor Bistro Set
This Cosco Outdoor Bistro Set is also particularly designed for a comfy dining experience on your balcony.
The two chairs in this set are well-matched with a high dining table. Everything is constructed of highly durable steel with powder-coated frames. Therefore, you can almost expect it to last a lifetime.
Most importantly, the chairs are compact enough to fit in small balcony spaces. The dimensions are: 15.7" W x 17.3" D x 31.9" H (39.8 cm W x 43.9 cm D x 81 cm H).
The matching table is similarly compact, with the following dimensions: 23.6" diameter x 28" H (59.4 cm diameter x 71.1 H).