Balcony umbrellas are often used for the utility; they shade us from the rain or glaring sun. They can also be an opportunity to let your personal style shine. There is a wide variety of brands, types, and designs to choose from – but which is the best?
When searching for the best balcony umbrella, you are going to want to consider several factors: sturdiness, size and material of the canopy, and material and mechanism of the pole. You will also want to consider where you are going to put your umbrella.
This article will discuss a variety of balcony umbrellas, giving you an in-depth review of some of the best styles and brands. Keep reading for more info about eight of the best balcony umbrellas.
1. Pure Garden Patio Umbrella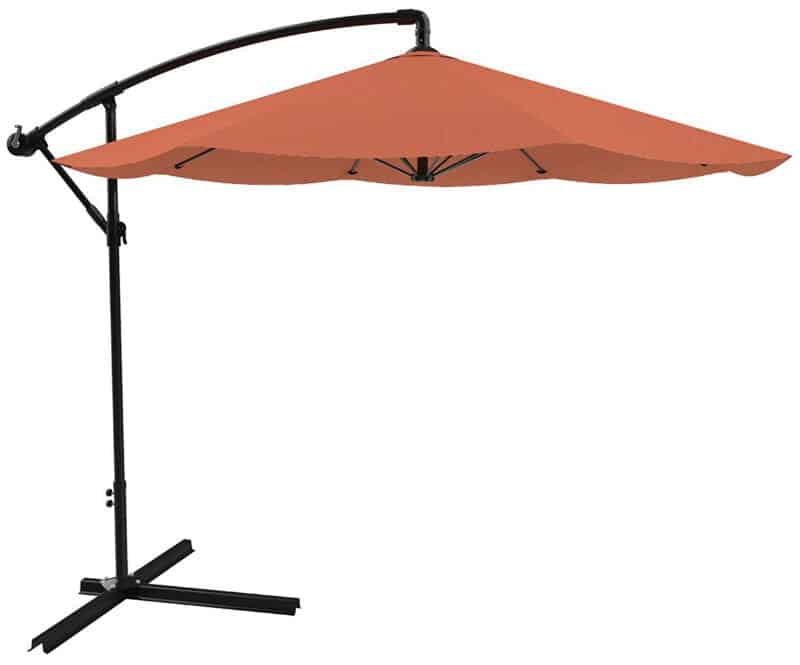 This Pure Garden Patio Umbrella comes with an easy to use crank handle. The crank handle turns to open and close the canopy. You can order the canopy in either 9' or 10', depending on the size of your balcony. 
The 9' to 10' diameter of the umbrella will provide enough shade for a group of people, keeping 4-6 people comfortably shaded from the sun.
For maximum shade, it is best to look for umbrellas that can adjust and tilt on an angle. The sun is not static, and your umbrella shouldn't be either! To adjust the Pure Garden Patio umbrella, simply press the auto-tilt button. The umbrella can tilt up to 60 degrees.
The umbrella comes with a durable aluminum base and can be placed on your balcony. If you have an outdoor dining set with a center hole for outdoor umbrellas, the umbrella will fit there as well.
The fabric is made out of polyester and will withstand the weather, whether it be rain or sun. As an added bonus, the canopy is vented, which will help increase airflow as well as prevent wind damage.
Pros
Multiple colors to match your decor
Adjustable, tiltable base to fit your needs
Good for shading large groups of people
2. Benefit LED Patio Umbrella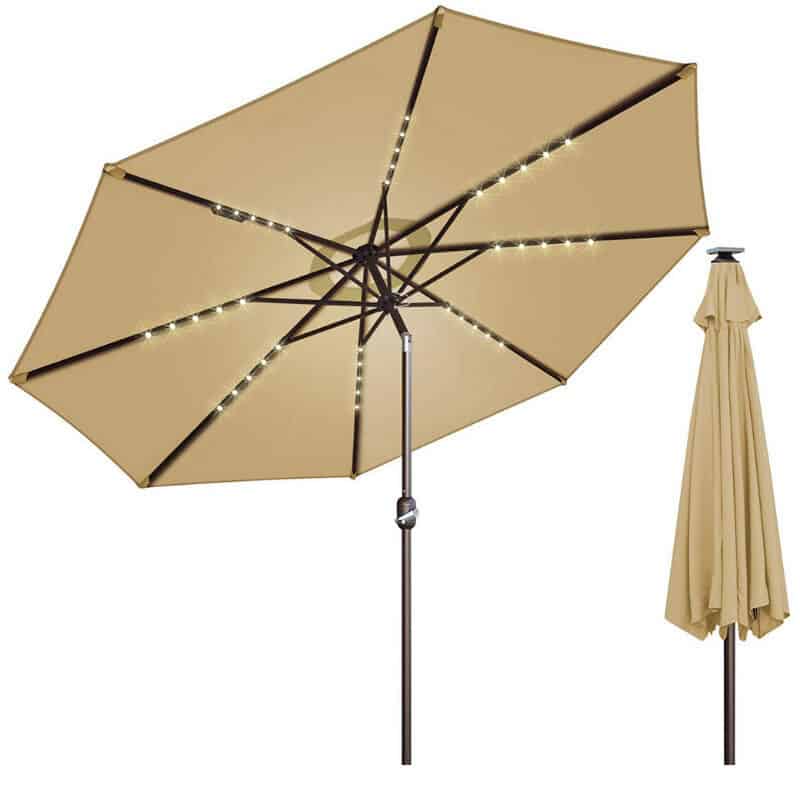 This Benefit LED Patio Umbrella comes equipped with bright LED lights. The LED fixtures make this umbrella a great choice if your balcony needs light. The tent is equipped with pre-installed LEDs that will provide bright, efficient lighting.
The 10' umbrella is wide enough to shield a group of 2-5 from the sun. The umbrella cover is made from polyester, which will help protect it from water damage. It is also vented, which will allow air to flow through and will help to prevent any wind damage.
The umbrella comes with a tilt system, helping you to easily make adjustments depending on the time of day. The center pole is constructed from sturdy steel and is 1.5" in diameter.
This illuminated patio umbrella comes in a variety of neutral tones. The polyester tent fabric comes in brown, beige, ecru, burgundy, tan, and taupe. The neutral, earthy shades are so this umbrella will blend into your other balcony decor.
Pros
LED lights to help you read at night
10' diameter of the canopy will shade multiple people at once
Adjustable tilt will adapt to the sun's position
Many neutral color tones to choose from
3. Outdoor Wall Mount Garden Parasol
If you have limited space, it might benefit you to invest in an umbrella that mounts to the wall. This outdoor garden parasol is perfect for a smaller balcony and will help you to make the most of your space.
This umbrella will mount to your wall and thus free up space on your balcony! The umbrella fabric is made from UV protective cloth. The fabric is waterproof and anti-fade and is made to be durable and lasting.
The width of the umbrella is 7ft, which also makes it a good choice for smaller outdoor spaces.
The parasol also comes with tilt, so you can easily adjust your shade depending on the sun's position.
Pros
Good for smaller balcony spaces
Wall mount frees up space
Fabric is waterproof and durable
4. Sport Brella with Universal Clamp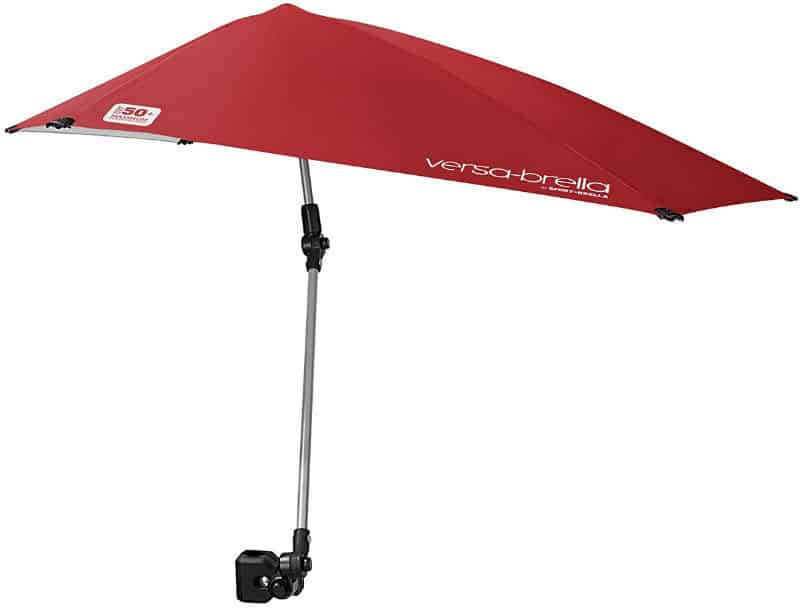 This Sport Brella umbrella is another great option if you have limited balcony space. The umbrella pole comes with a universal clamp, making it easily attachable to any balcony railing or squared surface.
When open, the umbrella is 40" wide, which makes it a good option for shading smaller balcony spaces. The fabric has UPF 50+ protection to help keep your skin safe from UVA and UVB rays.
The umbrella also swivels 360 degrees, making it adjustable for all of your needs.
This umbrella is also easily transportable, in case you need to move it or bring it with you. It folds for easy transportation and weighs only 1.8 pounds. You can attach it to folding chairs for a picnic, or bring it with you to the park.
Pros
Good for smaller balcony spaces
Easy to clamp on to railings or squared surfaces
Detachable, easy to move
5. Half Umbrella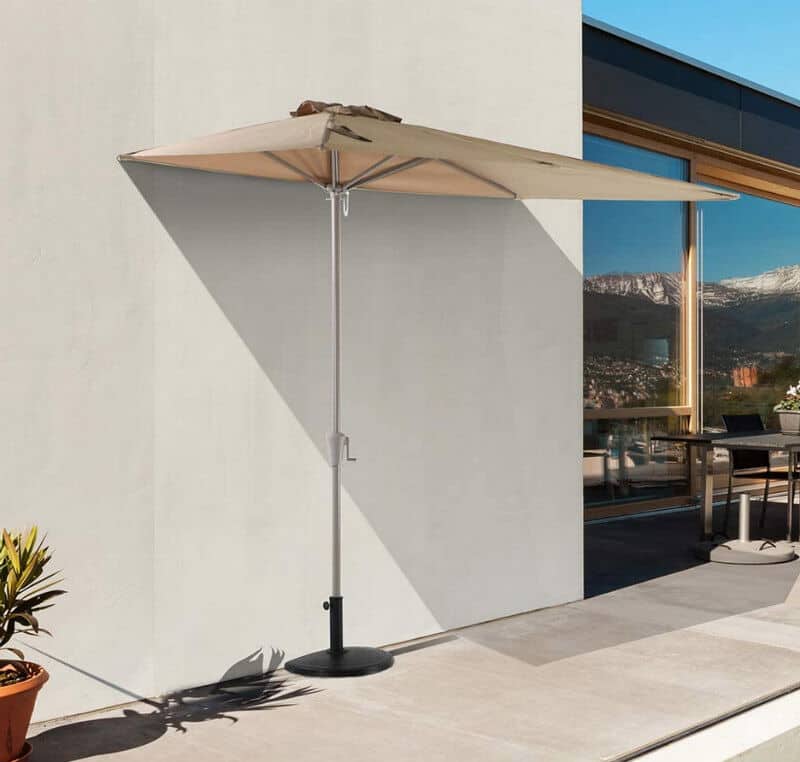 Here we have another umbrella that is perfect for small balcony spaces. It can be mounted on any umbrella stand. This half umbrella folds easily, making it a functional option for frequent beach-goers or picnic attendees. 
The half-size of this umbrella means it will sit flush against your wall, conserving much-needed balcony space. Half-sized umbrellas are ideal for smaller balconies.
The fabric is made from waterproof, fade-resistant material that can shield from rain or shine. 
It also comes with a stand with a flat edge that allows it rest along the wall of your home to save space.
Pros
Good size for a smaller balcony space
Easily transportable 
Cons
Does not come with umbrella stand
6. Tangkula Wall Mounted Umbrella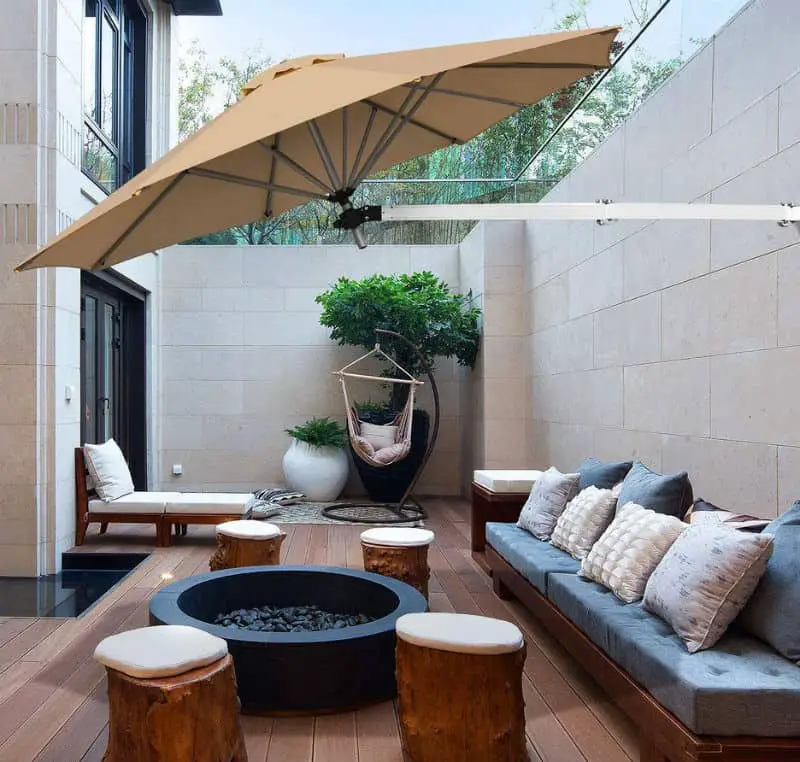 This Tangkula umbrella mounts to the wall, making it another great option for smaller balcony spaces. The umbrella comes with two installation options. Having a wall-mounted umbrella can conserve more space than a traditional umbrella stand.
This particular wall mounted umbrella allows you to adjust the tilt in multiple ways. It is a flexible umbrella that can fit your changing needs.
The canopy's material is made from durable, waterproof polyester. The frame is constructed out of sturdy aluminum with high resistance to rust. 
This umbrella will stand up to the weather. The waterproof canopy will resist rain, and the vented canopy will allow for airflow and resist wind damage.
Pros
Adjustable tilt
Wall mount will conserve space
7. Simply Shade Rectangular Umbrella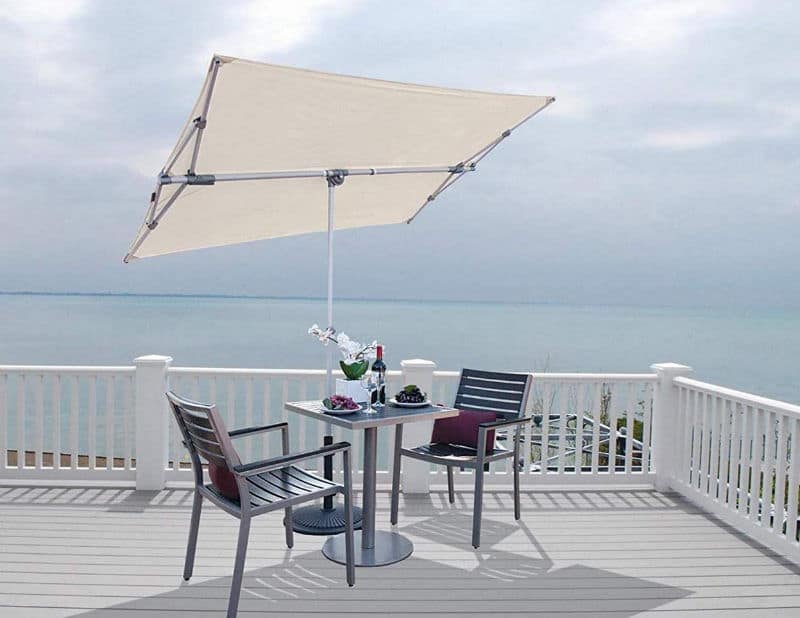 This Simply Shade Rectangular Umbrella provides a unique shade and style. The 4.95 by 6.93-foot rectangular canopy will provide shade in tight corners that regular round umbrellas may miss. And the durable polyester fabric makes this umbrella lasting no matter the weather.
The umbrella has a 360-degree tilt, which allows you to adjust the shade to your needs. The height of the umbrella is also adjustable, stretching up to 6 feet tall.
It is recommended to pair this umbrella with a 50-pound (23kg) base. Unfortunately, this umbrella does not come with a base included.
Pros
Durable polyester fabric
360-degree tilt
Unique shape to shade corners
Ideal for tight spaces
Cons
Does not come with base included
8. CYTBP Patio Umbrella with Mosquito Net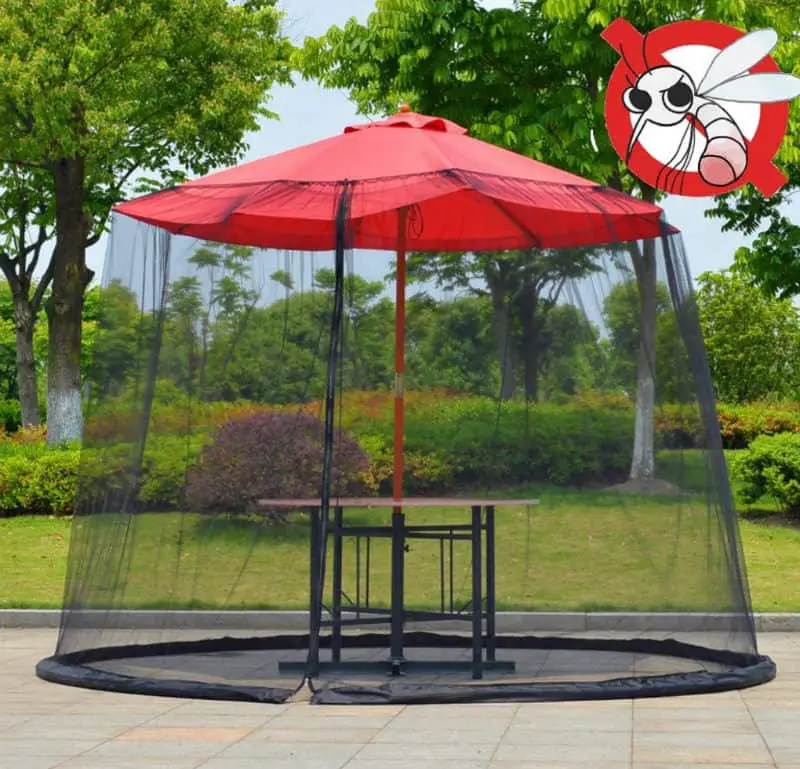 This CYTBP Patio umbrella comes with a unique feature: a built-in mosquito net. Ideal for areas that have a major bug presence!
This patio umbrella will allow you to socialize or eat outdoors without the interference of bugs. The umbrella is made from 100% polyester and is resistant to damage and scratching.
The umbrella height is also adjustable, making it a flexible option.
Pros
Keeps out bugs
Flexible height
Conclusion
When searching for the perfect balcony umbrella, it is important to consider the size of your space. Visualize where the umbrella will fit, and find one that fits your spatial needs first and foremost. Adjustable umbrellas will allow you the most flexibility.