A balcony offers an elevated view of your surroundings and more options for seating, working, relaxing, or simply enjoying the outdoors. Sadly, your balcony may be underutilized because it's too small. So, you may be wondering whether you can extend it.
To extend your balcony, you must fulfill the regulatory requirements that require approvals for such works. You also need to know if an extension will create the type of space you want and whether it matches with your indoor space, or if only simple changes will be better alternatives.
Follow this guide to find out the critical things you must consider if you want to extend your balcony.
Regulatory Requirements
Take note that physical balcony extensions require approval from local planning authorities. Also, such works must be done under the strict supervision of an engineer or architect.
Various regulatory requirements exist, which you must follow.
The design of the extended balcony must follow the original building design and should respect any traditional features. You should try to minimize any impact on your neighbors as much as possible. For example, consider using privacy screens to protect the privacy of your neighbors.
With an experienced balcony extension architect, the process of getting the necessary approvals and the work itself can be quite painless.
However, certain minor changes to your balcony may not require building permits. But you must check with the local building authorities. Where necessary, seek the necessary approvals and professional help.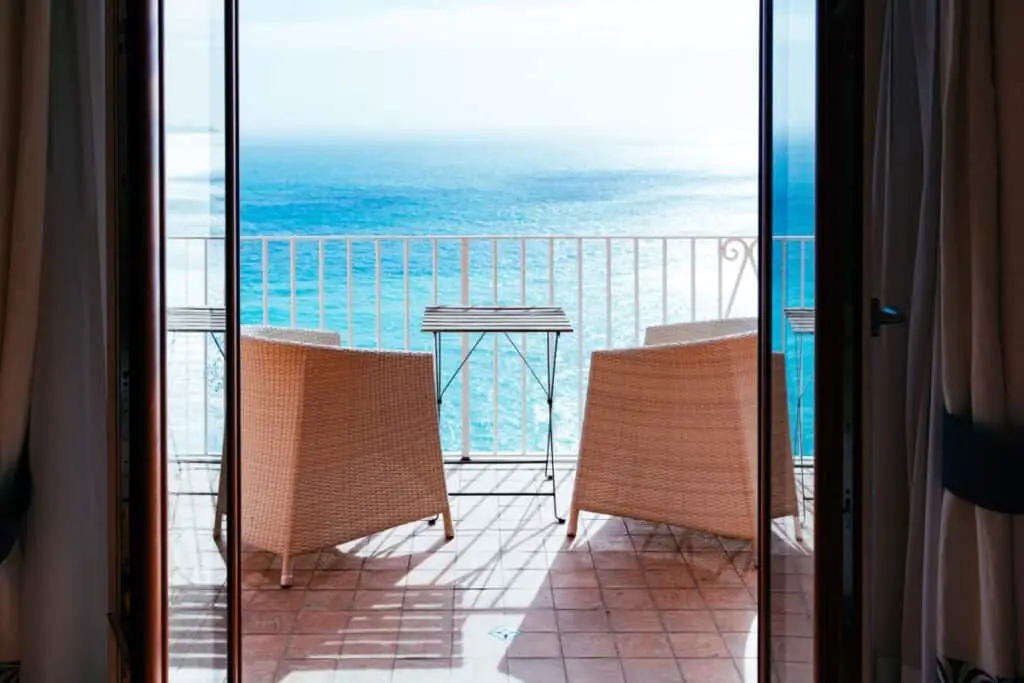 Why Do You Want to Extend Your Balcony?
When considering if you can extend your balcony, you must have a good reason to do so. Being clear on your objective will help avoid unnecessary changes. Perhaps, your goal can be achieved without extending the balcony.
Do you want a place to relax in the evening with a glass of wine? Do you want a dining space or a home office where you can work in peace? Are you looking for a place where you can hang out with family or friends and simply relax?
Could you achieve the intended goal by utilizing a different space in your house?
What Style Do You Want to Create?
Since existing regulations require that balcony extensions follow the original building design, the style you want could determine whether you can extend your balcony.
What is your intended design style? Do you want to create a colonial look, minimalist style, or sleek and modern design? Does the rest of the building match your design choice?
Various style options include:
Art deco
Craftsman
Contemporary
Mid-century modern
French provincial
What Is Your Balcony Extension Idea?
The particular balcony extension idea you have in mind can also determine whether you can do the extension. Some ideas may not be practical, based on the balcony load limits and other structural factors.
Homeowners, especially those living in compact apartment buildings, may want to extend the limited available balcony space. The good thing is that you likely have some leeway to make some structural changes.
The trick when extending your balcony is to let your creativity flow. Measure up the area of your balcony and decide which sections can benefit from your efforts to give more room or the illusion of more space.
Compile a list of what you think your extended balcony needs and sketch it out before purchasing anything, as this helps in visualizing your new space.
Will the Flooring Match Your Indoor Space?
To ensure the balcony extension looks like a seamless extension of the indoors, you need to use the same flooring outdoors as the indoor room. If you don't have the right flooring, then you should probably reconsider the extension.
You may try experimenting with different flooring options like patterned tiles, contrast colored tiles, or even a finish of rough cement. However, it should complement the indoor space; otherwise, it will look odd and out of place.
Just like the flooring, stick to the same paint scheme as the indoor space when extending your balcony.
Do You Have the Right Materials?
The materials you have will make or break your balcony extension project. The material should be well suited to your house design and provide the necessary structural support.
Typical balcony materials include:
Cement: Structurally sound. You can paint it to match your home.
Wood: You can seal it against the elements.
Vinyl: Easy to install, and reasonably priced.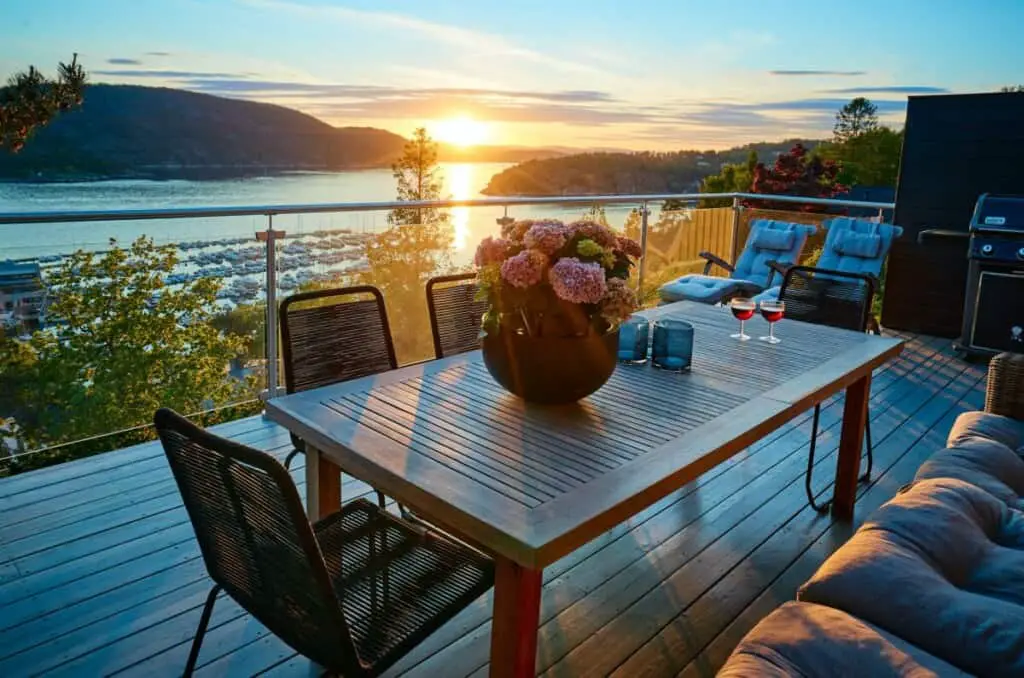 Alternatives to Balcony Extensions
Before you decide to extend your balcony, first consider the possible alternatives that might serve the purpose you have in mind. Maybe a simple alteration to your existing balcony may be all that you need, without any extension.
Here are some alternative ideas.
Be Crafty With the Seating
Plan the layout of your balcony in a way that looks like an extension of your living room or bedroom. Whenever possible, use the same color scheme and furniture style in both areas, to give the impression of one vast area.
You can also maximize your balcony's square footage by installing built-in bench-like seating.
If you're really short on space, consider going for furniture pieces that can be folded or tucked away when not being used. This frees up floor space that can be used for something else.
What you must avoid is filling up the balcony with oversized furniture or other large items that make the space appear smaller.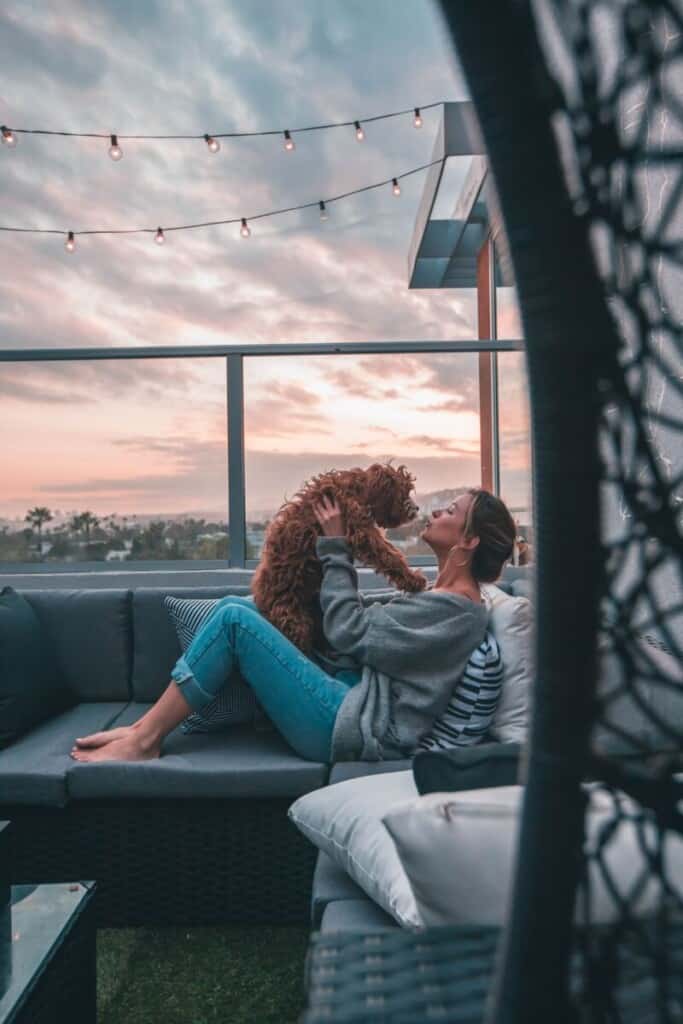 Light It Up
Although balconies are naturally lit, consider installing a few lights for the evenings and nights. These could be table lamps, wall sconces, a floor lamp or two, or ceiling spotlights. 
Other awesome ideas include a bold metallic pendant light, outdoor lanterns, or string lights. That will brighten your balcony and make it feel roomier at night.
Give the Balcony a Facelift
Perhaps, all you need is a facelift for your balcony to seem large and spacious.
You could try out some innovative wall treatments, such as murals, wallpaper, decals, textured colors, murals, and so on.
The paint scheme may need a brighter look to liven up the atmosphere too.
Add an Awning
If you are not looking for a permanent enclosure such as grilles, you could consider installing retractable awnings on your balcony. These are good at providing the necessary roofing or covering for your balcony, making it appear like an extension of the adjoining room.
The awning can be retracted when not in use and folded away.
You can even place your seats at the very edge of the awning without fear of being rained on or sunburned.
Folding or Sliding Doors
One way of completely opening up your balcony is by choosing the kind right doors that connect to the interior.
When pushed back, a sliding door fits inside the wall. When not in use, it disappears completely from view, offering unrestricted connectivity between your outdoors and indoors. 
Sliding glazed doors not only add more space to the balcony but also bring in natural light to your interiors. Above all, a space with more light always appears larger and more spacious.
Enclosing the Balcony
If you're thinking of extending your balcony to increase the floor area for storage purposes, you might achieve a similar result by enclosing the balcony. You can use the enclosed vertical space for storage instead.
Various options for enclosing balconies include retractable doors/ screens, drapes, blinds, bamboo blinds, and fiber-glass screens.
Conclusion
You can achieve many things even with limited space in your balcony without an extension. The most important thing should be to have fun as you reorganize or extend your balcony. This can be a fun project that involves everyone in the family.
The reward will be a cozy space that you can enjoy. If done right, it also adds value to your house, should you ever think of selling.