Everyone's feeling an itch—not that kind of itch! I mean the temptation of early summer to go out when the sun is nice, the breeze is still cool, and the mugginess that Japan is infamous for has yet to fall upon us.
The extended lockdown has left many wondering how they can enjoy this fleetingly pleasant weather while still being responsible by staying at home.
Fortunately, there's one small feature that most Japanese homes have in common: a balcony.
That's right.
That small space where you hang your laundry, forget about those dying plants, and occasionally hide a bag of trash. It's now your key to getting outdoors and enjoying this blissful weather while it lasts.
Being stranded at home has led to me spending entirely too much time on social media, but I came across some inspiring balcony makeovers that I wanted to share. People across Japan are converting their small balconies from something that's merely practical into something that's gratifying.
With a little bit of time, money, and creativity, you can turn your balcony into a satisfying space for both fun and leisure. Let's take a look at a Ghibli inspired balcony in Tokyo, Japan.
An Artist's Ghibli Inspired Balcony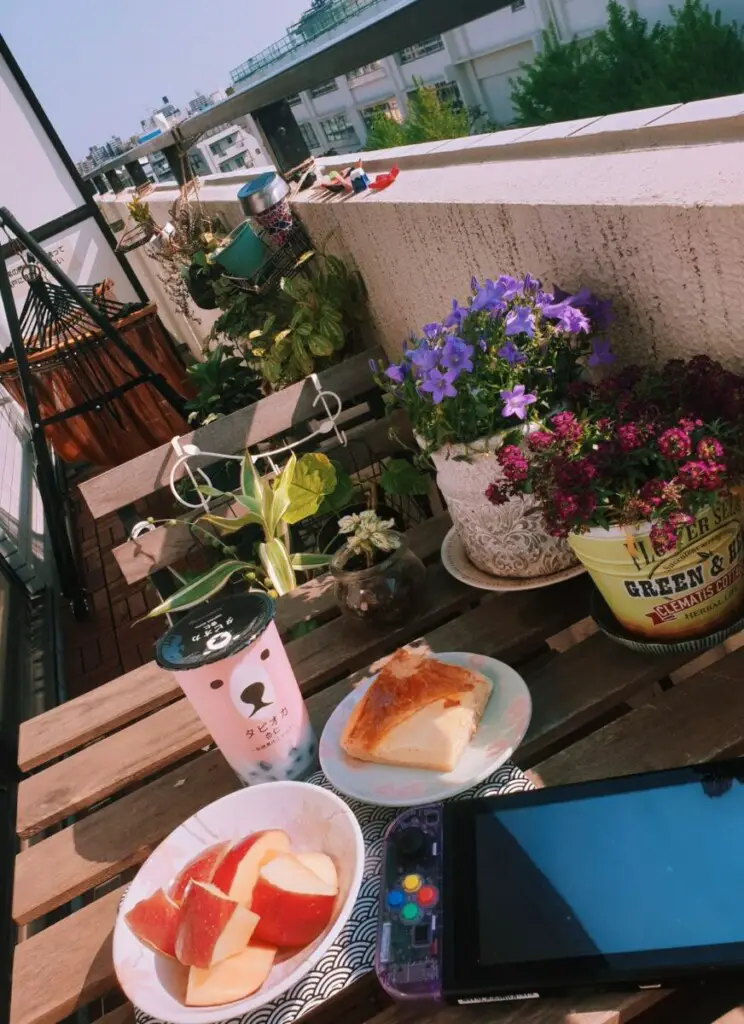 Are you a fan of the Studio Ghibli movies? So is Kimia, an artist who lives and works in the heart of Tokyo. She moved into her 6th-floor apartment 3 years ago, and has been gradually transforming her balcony into the perfect retreat.
"My neighborhood is full of little corners with plants and decorations. Being able to find little bits of nature on even the busiest corners of Tokyo is a characteristic of Japan that I really love."
Kimia explained that she wanted to create her own little Ghibli corner, and she drew inspiration from the homes and businesses in her neighborhood—and one special YouTuber!
"Last year, I saw TokidokiEmma doing the flooring on her balcony and I instantly fell in love with it. I asked her where she got everything from and she was kind enough to tell me."
Although Kimia had her heart set on decorating her balcony last summer, it wasn't until the #stayhome movement that she finally set her big plans in motion.
Starting the Balcony Makeover
Kimia's balcony looked quite cozy even before Tokyo went into lockdown. She had a cute wooden table with 2 chairs, and a nice assortment of plants in beautiful pots. She was off to a really great start but felt it could be better. 
So what did Kimia do?
She stripped it all down! Kimia removed everything that was sitting on the balcony in order to give it a good scrub before placing the new flooring.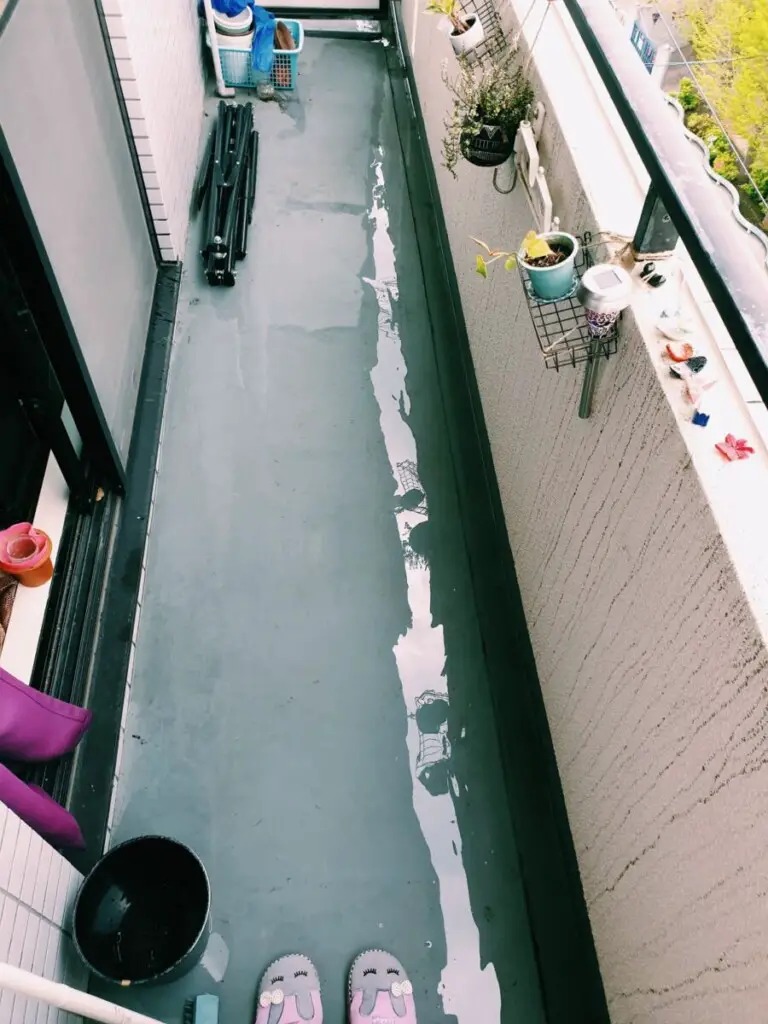 Here you can see the balcony freshly cleaned and glistening! With all of the dirt and leaves removed, it was time to start laying down the wooden tiles and artificial grass that she bought from Ikea.
Installing the Flooring and Furniture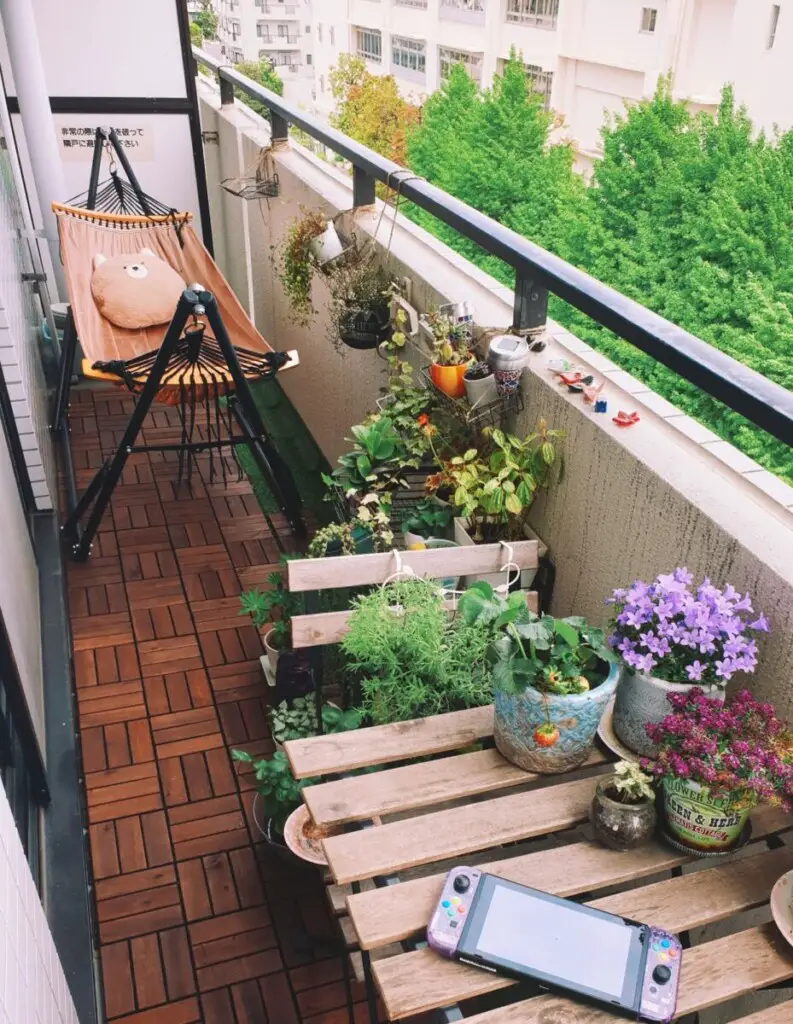 Voila!
Just look at the huge difference the custom flooring made! The brown tiles added warmth and life to a balcony that before looked a bit cold from the gray.
Now, it actually feels like she's stepping out into a part of nature. Kimia has created her own little forest right on her balcony.
When the weather is nice, she can lounge on her hammock while reading a book or playing a game on her Switch. It's the perfect way to relax in the morning and evening.
Growing a Plant Collection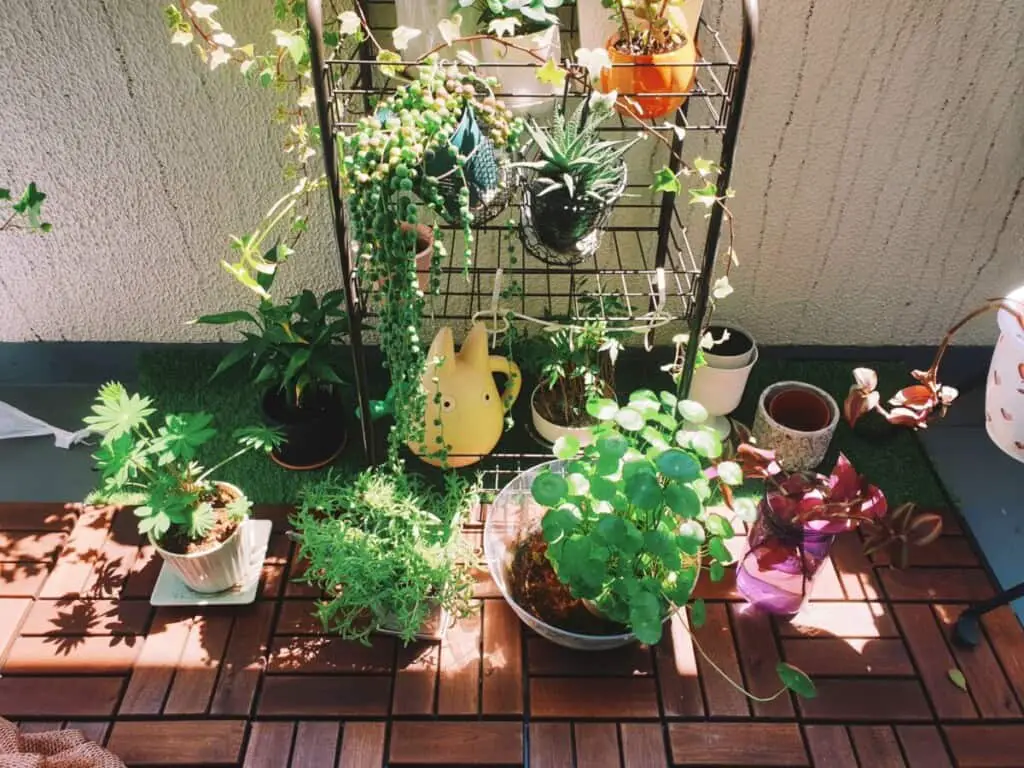 Kimia's little Ghibli corner is magical!
She made great use of vertical space to layer and display her stunning assortment of plants.
"I love to explore flower shops and vintage shops in Tokyo. They're a danger zone because I always grab a plant or pot when I walk by. My favorite is Covent Garden Bazaar."
Some of Kimia's other favorite shops include Natural Kitchen and Salut. When she first moved into her apartment she only had 5 small plants. Her collection has grown quite a lot since then!
When asked about the difficulty of creating this balcony makeover, she said that the hardest thing has been keeping the plants alive. Many of her plants didn't survive in the beginning when she first started gardening. It took quite a bit of effort to learn how to take care of them and get them to thrive as they do now.
The Downsides to Having a Balcony Garden
Having a lot of plants comes with a lot of responsibility. Not only do they require watering, but also fertilizing, repotting, and sometimes repellent for bugs. A balcony garden requires daily care to keep it optimal.
Japan gets hit by numerous typhoons each year, and plant owners take extra care to make sure their plants don't get damaged or end up completely missing after a storm passes.
"I live on the 6th floor of a very open area. So, the wind is quite strong and I can't place plants wherever I want out of fear that they could blow away. During typhoons, I have to bring everything inside of my home, and I'm worried about how the new flooring will handle the storms."
Cost Breakdown for the Ghibli Balcony Makeover
Kimia has decorated her dream balcony over the course of the 3 years she's been living in her apartment. She was able to give us a rough estimate of how much it costs to get most of the supplies.
Balcony Makeover Costs:
| | |
| --- | --- |
| Flooring | 13,000 yen |
| Hammock | 10,000 yen |
| Table and Chairs | 5,000 yen |
| Plants and Pots | 0 to 1,000 yen each |
It's surprising just how much certain plants and pots can cost. Some of the rarer plants in Tokyo can easily run for more than 10,000 yen ($100 USD) each, and an additional 10,000 yen or more for a nice handmade pot!
However, Kimia is quite savvy and managed to buy most of her plants for 100-300 yen each. She even snagged a 5,000 yen plant for only 500 yen! Talk about a good deal.
She enjoys buying plants when they're small, and dedicating the time to caring and maintaining them as they grow.
Kimia has certainly made a big time investment in her balcony garden, but the outcome has been worth it. So what's next for someone who already has the seemingly perfect balcony getaway?
"I'm definitely planning to move to a place with more windows and possibly a bigger balcony. It's a challenge to get that in Tokyo, but Japanese sunsets are very beautiful [and I wouldn't want to give them up]."
For now, Kimia plans to continue adding plants to her mini jungle and to find new water plants to expand the small pond that she's creating.
You can check out Kimia's progress on her Main Instagram, Art Instagram, and Twitter accounts.