Your balcony is the perfect place to relax and enjoy the sunrise or sunset while taking in some fresh air. However, the lack of privacy and the direct glare of the sunlight can make spending time out there a bit less appealing. Hanging curtains strategically can solve these problems.
To hang curtains on your balcony, you need to first think about the type of curtains you need. The material and design you choose can accentuate your balcony or detract from the overall appeal of the house. Once you have the curtain, use the best hanging accessories for it to complete the job.
The rest of the article will discuss in more detail how to choose the curtains and how to hang them. Watch out for tips on how to hang a curtain on your balcony without rods.
Decide What Functionality You Need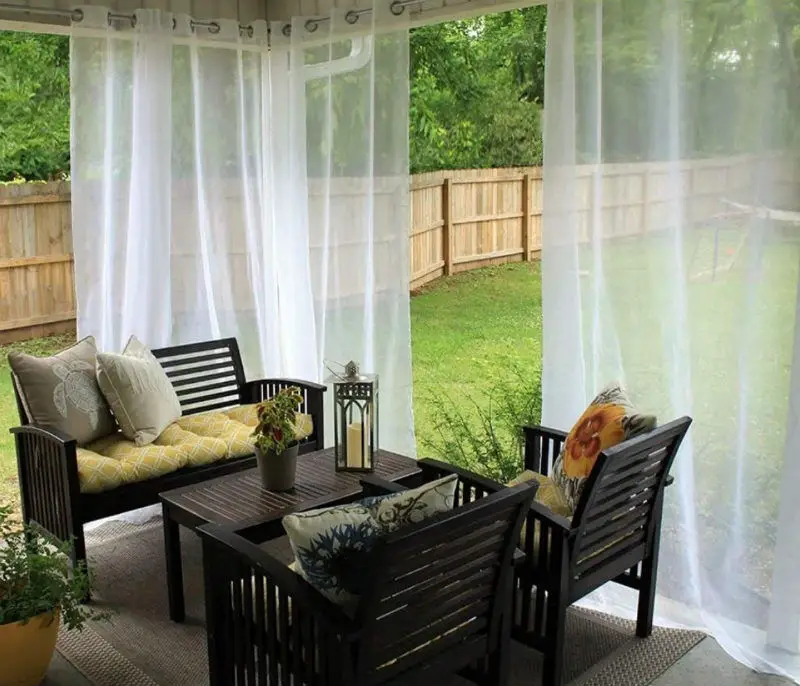 If you want some privacy while adding some decoration to your balcony, standard curtains or drapes can do the job. You can find these at most hardware stores or with any online retailers. Nicetown Outdoor and Exclusive Home are some brands you can go with.
However, privacy and aesthetic appeal aren't the only reasons for needing a balcony curtain. You may also want to keep out bugs. In this scenario, you'll need to look at getting a mosquito curtain. These curtains are made of durable and machine-washable fabric, and they are effective against all kinds of bugs, not just mosquitoes. Ryb Home and Pony Dance are some highly-rated brands of mosquito curtains you can buy.
READ ALSO: How to Make a Small Balcony Private
However, the downside to mosquito curtains is that they don't typically offer the same level of privacy as drapes and standard curtains—especially the lighter colored options. You may ultimately have to have to get both types if you want bug protection and privacy, using the mosquito curtains as the inner one.
Choose A Good Outdoor Fabric
When choosing your balcony curtain, you need to pay attention to a few important details.
Functionality
Using curtains that are meant for indoor use for your balcony isn't a good idea. They'll most likely rot, attract mildew or fade. The most durable balcony curtains come in fabrics that are resistant to moisture and heat. They also won't attract dirt easily.
Solution-dyed acrylics are some of the best you'll find when it comes to fade-resistance. If you want something that looks closer to indoor fabric, acrylic-coated, poly-cotton materials are the option to consider. However, they'll fade quickly if you get regular sunlight on your balcony—in which case you should look for options that have excellent UV ratings.
Apart from weather resistance and the ability to block UV rays, you should also look at how easy it would be to hang the curtains. Do they come with tab tops or built-in grommets?
Finally, you have to consider the length and width. Will the sizes be the perfect fit, or will they be too long or too wide?
Design
The balcony will take on a modern feel with curtains featuring stripes and geometric patterns. You can also go with multi-colored or monochromatic designs. If you don't want splashes of color and patterns, you can go with neutral or plain curtains. These can complement your houseplants in the balcony, allowing them to shine.
Curtains with floral and nature print designs can add some spice and create a Mediterranean or English countryside appearance. Hand-dyed batik designs will evoke an exotic feel.
Spend as much time as you'd want in this stage to ensure you get a design that can truly transform your space and a curtain that will bring value for money.
Don't forget to consider the wider aesthetics when choosing the design of your balcony curtain. Everything from the color of the furniture to the plant pots can make a design look better (or worse). Of course, the color of your walls is also important.
If you are still unsure of what type of balcony curtains will fit your needs the best, you should consider talking to a professional.
Pick Some Nice Accessories to Add Style
Some of the accessories you'll need to hang your balcony curtains include rods, brackets, and hooks. You may also need wire ropes. It will all come down to the type of curtains you choose, and what your balcony structure can allow.
Pole-style curtain rods will look decorative without detracting from your balcony architecture. You can save money on them if you can find wooden dowels or bamboo stalks and paint them to your task.
You can also get some ribbons that can be used to gather the curtains together. Apart from the functionality, it is an excellent way to add some color to the curtains. You can get different colors that can be swapped out during festivities.
Secure the Curtains to Your Balcony
Once you have the curtains and the accessories, it is time to hang them properly. Here's what you should do.
Hanging Balcony Curtains With Curtain Rods
Most balcony curtains come with grommets built into the head areas. Here is a video on the different types of grommets and how to install them:
Some come with tab tops made of the same material as the curtain. If you've bought one of these curtains, you can use normal drapery rods to hang the curtains across your balcony. Kenney Adler and Beme International have some high-quality options you can choose to go with.
Take care to measure the areas where you want the curtains to hang. Decide where they will open and close, paying attention to details like the direction of the sunlight, the direction you'd like to cover (think the position of your neighbor's house or the street), etc.
You should also measure the ideal length you want for your curtain. It's not a good idea to have them flowing on the ground, but they shouldn't be too high either.
Once you've made the decision, mount the drapery rods on the wall. You may need special screws or nails depending on the wall material.
Choose the drapery rod that meets your decor tastes. They come in different colors and designs, so matching the accent of your balcony railings or window and door accessories shouldn't be a problem.
Hanging Balcony Curtains Without Curtain Rods
If your balcony is designed in a way that using curtain rods is not realistic, you'll have to look for an alternative way to hang your curtains. One solution is to use an exterior steel wire rope to hang the curtains. The best types are those that have some plastic covering to prevent rust.
You'll still need to tie off the rope to securely hang the curtains, so you have to find a post, beam, or a portion of your home's exterior for the ends of the rope. Install wall anchors into this part, and then run the wire through the tab top or grommets in your curtain before hanging the curtains and tying them off on the anchors.
Conclusion
Hanging balcony curtains is as simple as hanging indoor curtains. The main differences lie in the selection of materials and design choices. Apart from choosing materials that are durable enough to withstand exterior temperatures, you have to also ensure that the designs are in line with the overall decor of your balcony and the exterior of your home in general.
Once you've found the right curtains, hang them using the right accessories to ensure they remain in place. If your balcony has pillars or walls that can hold drapery rods, the hanging process should be straightforward. Otherwise, you'll have to improvise with steel ropes and wall anchors.