Your balcony is the place to be for some fresh air and sunshine within the home, so it makes sense to ensure it is as relaxing as possible. Adding artificial grass instead of leaving the floor bare is one of the ways to do this.
To lay artificial grass in your balcony, you have to first choose the type of grass to go with. Grasses with a shorter pile are the best for busy balconies. Once purchased, laying the artificial grass is simple. It can be a DIY project, and can also be handled by professionals.
The rest of the article will take a closer look at the steps to lay artificial grass for your balcony and everything you need to know about the process to ensure you make the right decision.
Why Lay Artificial Grass on Your Balcony?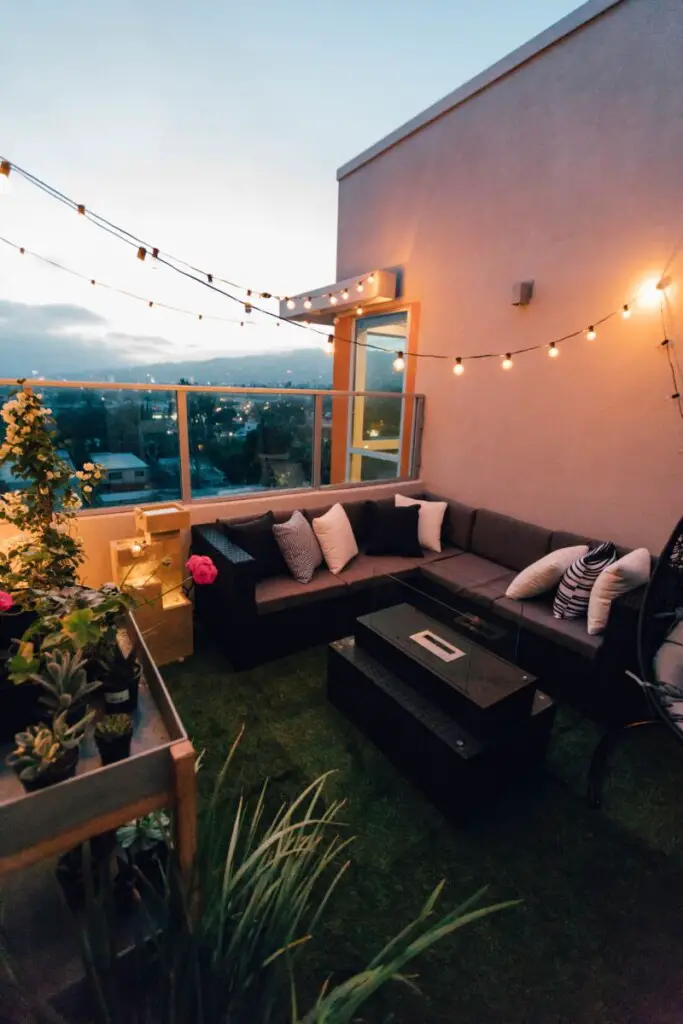 There are many reasons why artificial grass on your balcony makes sense. Some of these are covered below:
Artificial Grass Is Low Maintenance
If you are looking for a low-maintenance way to add some greenery to your balcony, artificial grass is the way to go. As long as there's proper drainage to allow run-off, the only maintenance you'll have to do is brush the grass from time to time.
It Is Cozy and Beautiful
Depending on where you live, it could be rare to see the relaxing views of greenery from your home without visiting a park. Artificial grass allows you to enjoy all the benefits that come with spending time in a green space. It also feels great to touch so you can relax on the grass. They also look very real, so blending in with the pot plants on your balcony is easy.
The Installation Process Is Easy
If you can cut, measure, and use some tape, you can install your artificial grass on your own. If you choose to allow professionals to do it, you won't have to worry about elaborate installation processes either.
READ ALSO: Japanese Ghibli Inspired Balcony
It Is Highly Durable
To underscore just how durable artificial grass is, some manufacturers offer a 10-year guarantee on them. The installation process typically used means you can roll up the grass when you need to move apartments. This means it offers a lot of value for money.
It Is Versatile
Regardless of the shape of your balcony, you can fit artificial grass on it. There are also lots of designs, shades of green and textures for you to choose from. The versatility also extends to how it interacts with your furnishings. From rustic to modern furnishings, artificial grass will always fit in.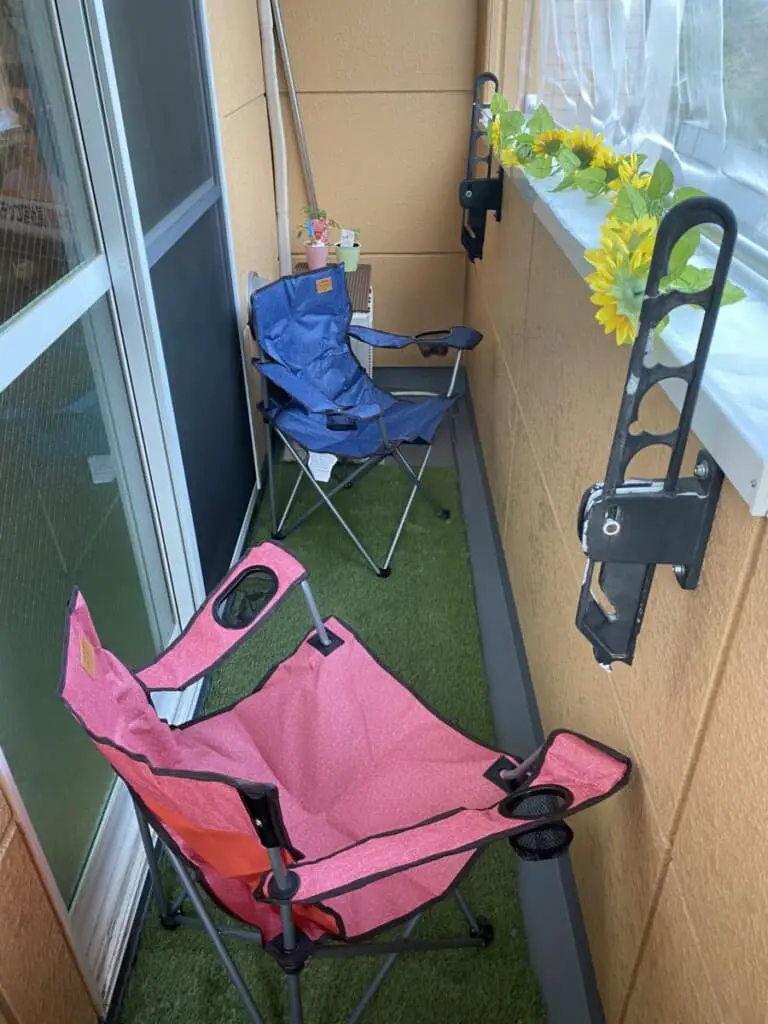 1. Sweep the Floor
This is to remove all debris that may get stuck on the artificial grass and make the final outcome bumpy. Even when there's no sizable debris, sweeping the floor rules out the chances of some dirt getting stuck beneath the undercover of the artificial grass and damaging it. Those little holes can weaken the overall structure faster than normal.
2. Measure the Floor
The artificial grass you bought most likely won't fit your balcony floor like a glove, so you'll have to use tape to get the right measurement. Measure the length and width, give room for a few centimeters, and mark your preferred width and length ends.
3. Lay Out the Grass
Once you have a clean floor and have your measurements, it is time to unfurl the artificial grass. Lay it out to cover the width and length you've measured. Remember, you don't have to cover the entire area wall-to-wall. You can leave some bare floor or choose to lay the artificial grass in the center of the balcony as an accent to your balcony decor.
4. Trim the Excesses
After you've taken note of the grass measurements, it is time to trim the excesses. Draw a line on the boundary to cut from with some chalk and a ruler. A knife like the Stanley Fat Max can do the cutting job. Be sure to keep your hand steady to avoid cutting away from the lines you've drawn.
5. Join the Grass
You'll most likely have to join the grass at some intersections. In this case, use a joining tape instead of glue. A99 Golf and Goasis Lawn are two affordable brands you can go with. This makes it easy to take out the grass if you decide to move.
6. Use Glue Around the Perimeter
One place to use glue when laying artificial grass on your balcony is around the edges. This is to hold it in place. However, you need to leave some gaps in the beading to allow proper drainage. You should also ensure that the edges that extend to the doorways are properly fastened to avoid trip hazards.
Again, use the glue sparingly as too much of it will make it hard for water to flow out from under the grass and also make lifting the grass in the future very difficult. If you are laying the artificial grass on a wooden floor, use round nails around the edges instead of glue.
7. Press Down the Edge
Once you have completed the laying process, press down the edge to ensure a solid layer, and encourage better binding between the surface and the grass. If you've used nails, you can skip this stage.
8. Brush the Grass
With the grass properly laid, the last step is to brush it. This is partly to get rid of any dirt that may have been tacked on during the laying process, but it will also bring out the elegance of your newly installed artificial grass.
Now, you can enjoy the new feel of your balcony!
READ ALSO: Camping on Your Apartment Balcony
Considerations Before You Install Artificial Grass on Your Balcony
You already know how to install artificial grass on your balcony, but before you head off to buy yours, there are a few things you should keep in mind:
Evaluate the Surface Thoroughly
Artificial grass is versatile, which means that the surface material for your balcony won't matter in many cases. However, if the surface is wood, there is always the danger of rot if the planks that make up the floor are not adequately spaced out. So, assess the wooden floor thoroughly before you choose to cover it with artificial grass.
Secondly, artificial grass shouldn't be installed on an uneven surface without using some foam underlay to make things even. This is to avoid the formation of air in the grass, making your installation look bumpy.
Check Your Balcony's Drainage
Does your balcony take some water when it rains? You should ensure there's adequate drainage to ensure the water can run off quickly. If you let the water sit beneath your artificial grass for long, the backing (and with time, everything else) will deteriorate quickly.
Choose the Right Type of Artificial Grass
As you've seen above, grass with a shorter pile is the best for a balcony that gets a lot of foot traffic. Such types of grass recover very quickly after being stepped on. If your balcony doesn't get as much traffic, then you can make your choice based on appearance alone.
Conclusion
Laying artificial grass for a balcony is a straightforward process. It only requires having an understanding of the type of artificial grass that is best for your balcony and having some measuring tape, joining tape, Stanley knife, and some glue (nails for wooden floors).
If you can't get these materials or don't want to go through the DIY process of installing artificial grass across a really large balcony, you can call in the professionals.